INSTRUMENTAL SOUL/JAZZ ACT DELVON LAMARR ORGAN TRIO TO KICK-OFF THEIR MASSIVE 2019/20 TOUR LATER IN DECEMBER IN FURTHER SUPPORT OF THEIR TWO ACCLAIMED ALBUMS "CLOSE BUT NO CIGAR" & "LIVE AT KEXP!"
DLO3'S KEXP SESSION ON YOUTUBE HAS PASSED 6 MILLION VIEWS!
CLICK HERE TO CHECK OUT THIS INCENDIARY PERFORMANCE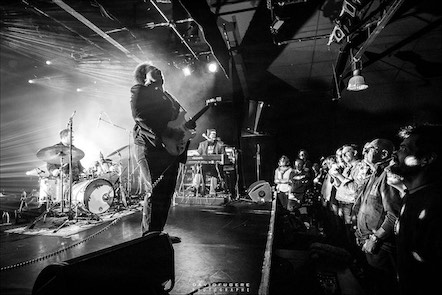 DELVON LAMARR ORGAN TRIO 2019/20 TOUR DATES
Dec 29, 2019 – Magic Bag – Ferndale, MI | Buy Tix
Dec 31, 2019 – Park West – Chicago, IL | Buy Tix
Jan 2, 2020 – The Firmament – Greenville, SC
Jan 3 – Iron City – Birmingham, AL
Jan 4 – Charleston Music Hall – Charleston, SC
Jan 5 – Ponte Vedra Concert Hall – Ponte Vedra, FL
Jan 7 – The Grey Eagle – Asheville, NC
Jan 8 – City Winery – Nashville, TN
Jan 9 – Terminal West – Atlanta, GA
Jan 10 – The Pour House Music Hall & Record Shop – Raleigh, NC
Jan 12 – The Burl – Lexington, KY
Jan 14 – HI-FI Indy – Indianapolis, IN
Jan 15 – The Refectory Restaurant and Wine Shop – Columbus, OH
Jan 16 – Beachland Ballroom – Cleveland, OH
Jan 18 – The Winnebago – Madison, WI
Jan 20 – Vaudeville Mews – Des Moines, IA
Jan 21 – The Record Bar – Kansas City, MO
Jan 22 – Jazz At the Bistro – St. Louis, MO
Jan 23 – Jazz At the Bistro – St. Louis, MO
Jan 24 – Jazz At the Bistro – St. Louis, MO
Jan 25 – Jazz At the Bistro – St. Louis, MO
Jan 26 – Jazz At the Bistro – St. Louis, MO
Feb 27 – Casey's – Whitefish, MT
Feb 28 – Arts Commons – Calgary, Canada
Feb 29 – Arts Commons – Calgary, Canada
Mar 24 – Dimitriou's Jazz Alley – Seattle, WA
Mar 25 – Dimitriou's Jazz Alley – Seattle, WA
Mar 26 – Blueshore Financial Centre For the Performing Arts – North Vancouver District, Canada
Mar 28 – Alaska Center for the Performing Arts @ Discovery Theatre – Anchorage, AK
May 3 – Rossstall – Basel, Switzerland
[more worldwide dates to be announced soon]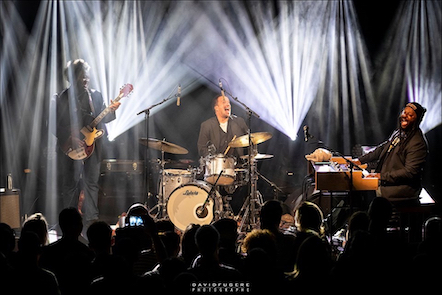 It's been a whirlwind 20 months for the Delvon Lamarr Organ Trio since the release of their debut album, Close But No Cigar. That LP topped Billboard's Contemporary Jazz Albums Chart upon its release, while their limited red-vinyl 2018 Record Store Day release Delvon Lamarr Organ Trio Live at KEXP! sold-out immediately online and in shops from coast-to-coast (sparking a later re-pressing on black vinyl). Speaking of this KEXP in-studio performance, the YouTube video of the session recently exceeded 6.2 million views, while the Seattle-based instrumental soul/jazz threesome have been amassing a wealth of new fans, both here and abroad, with their heavy tour schedule. Toss in massive radio play across the globe and it's safe to say that DLO3 have made quite a name for themselves in a very short time.
A brief history of DLO3:
After years of playing in bands that inevitably fell apart, as bands so often do, keyboard player Delvon Lamarr landed in a different kind of group: one founded by his wife and manager, Amy Novo. She created the Delvon Lamarr Organ Trio so her husband could fully focus on the things he does best: writing and playing music.
With a deep soul backbone augmented by jazz, rhythm & blues and rock 'n' roll, the trio evokes a classic instrumental sound with a fresh, virtuosic sensibility all its own. Their chemistry stems from each musician's unique abilities. Lamarr holds down basslines on the organ that are so vivid that audience members sometimes ask where the bass player is. "His left hand is second to none," James says. "He's got that, but he's also got this wild approach. He goes for it, and he's fearless about it." Though James is more modest about his own abilities — "I mostly just go for what I feel," he says.
"It means a lot to me that people dig what we do," Lamarr says. "I just want people to feel it, basically. So far, it seems to be going pretty well."
FOR MORE INFO ON DELVON LAMARR ORGAN TRIO:
dlo3music.com
facebook.com/dlo3music
BOOKING INQUIRIES:
Amy Novo / Manager
admin[at]novoproductionsllc.com
FOR MORE INFO ON COLEMINE RECORDS:
coleminerecords.com
FOR MEDIA AND INTERVIEW REQUESTS:
Tony Bonyata
Pavement PR
p: 262.903.7775
e: tony[at]pavementpr.com