Click here to download two new hi-res photos of Cricketbows (credit: Kyle Sweeney) and Communion EP art.
DAYTON-BASED PSYCH-ROCK BAND CRICKETBOWS TO RELEASE THEIR NEW STUDIO EP COMMUNION SEPTEMBER 8, 2017
Dayton, Ohio's Cricketbows are set to release an inspired EP of new material this fall. Produced by Buffalo Killers' Zachary Gabbard, this six-track effort, entitled Communion, is the band's first release since their 2015 debut album, Diamonds (produced by Grammy Award recipient Brian Olive). The EP will also coincide with the release of a full-length film entitled "Where The Ocean Meets The Sky" that will feature behind-the-scenes footage and videos for all of the songs from Communion.
"We wanted to showcase our songwriting and our voices and our playing on this one," said Chad Wells, the band's founder and male lead vocalist. The band is often categorized as a psychedelic band and though that subgenre of rock is an ingredient in Cricketbows' musical recipe. Communion finds the band climbing out of the psych tunnel and into a more refined style of rural indie rock that borrows equally from '60s and '70s inspirations like The Beatles, The Byrds, Little Feat, The Allman Brothers, Fleetwood Mac and The Grateful Dead, as well as '80s and '90s college radio and indie stalwarts like R.E.M., The Replacements, X, Uncle Tupelo and Lollapalooza generation giants like Jane's Addiction, Pearl Jam, Nirvana and the band's hometown heroes, Guided By Voices and The Breeders. "We're all over 30 years old – some of us are over 40 – and we grew up in a time that had so much great music. These songs are mostly about childhood and reflecting on stuff that happened to us in the '70s, '80s and '90s, so the music should be a reflection of that," said Wells. "The goal here is timelessness, so we've stripped the band back to basics and recorded straight to tape in the top of an old barn in rural Ohio."
During the lengthy recording process for the EP the band experienced a number of life changes, losses and new beginnings. The band replaced original drummer Jim Ingram with Kyle Sweney, two members of the band opened substantial new businesses and other members changed their careers and day-jobs and nearly everyone in the band experienced weird phenomena that ranged from sleep paralysis to possible contact with otherworldly life forms. "We all have had some bizarre dreams and weird lights coming in windows and shadowy figures looming in our dreams and things like that," admitted Wells. "Sometimes we get freaked out by it but it's kind of par for the course for this group. Everybody in the band had weird childhood experiences and experiences as adults that sort of ties us together. Sometimes we're as much a support group for each other's weird experiences as we are a band. That's a little bit what the title of this EP is about. Communion is about coming together or being brought together and experiencing these life changing moments."
Cricketbows' Communion will be available September 8th on CD, digital and streaming formats via Mosquito Hawk Records.
COMMUNION TRACK LISTING:
01 Beat Of My Heart
02 Summer Festival Sky
03 Games People Play
04 End Of The Night
05 Jupiter
06 Sea Green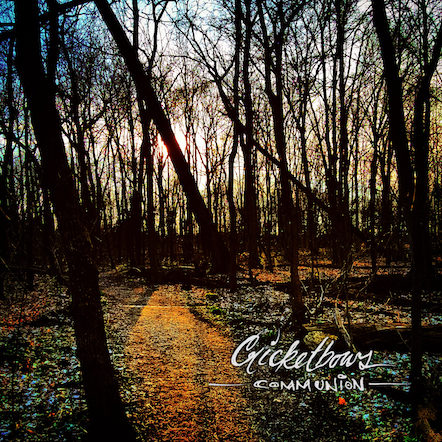 CRICKETBOWS ARE:
Chad Wells – Vocals, Acoustic and Electric Guitars, Banjo
Aarika Watson – Vocals, Flute, Electric Mandolin, Tambourine
Michael Bisig – Electric Guitars, Effected Horns
Christopher Corn – Electric and Acoustic Bass, Bass Noise
Kyle Sweney – Drums and Percussion
MORE INFO ON CRICKETBOWS:
http://www.cricketbows.com
https://www.facebook.com/cricketbows
MEDIA & INTERVIEW REQUESTS:
Tony Bonyata
Pavement PR
e: tony@pavementpr.com
https://pavementpr.com