Click here to download a new hi-res Cracker band photo (photo credit: Jason Thrasher)
Cracker has been described as a lot of things over the years: alt-rock, Americana, insurgent-country, and have even had the terms punk and classic-rock thrown at them. But more than anything Cracker are survivors. Co-founders David Lowery and Johnny Hickman have been at it for over a quarter of a century – amassing ten studio albums, multiple gold records, thousands of live performances, hit songs that are still in current radio rotation around the globe ["Low," "Teen Angst (What The World Needs Now)," "Euro-Trash Girl" and "Get Off This," to name just a few], and a worldwide fan base – that despite the major sea-changes within the music industry – continues to grow each year.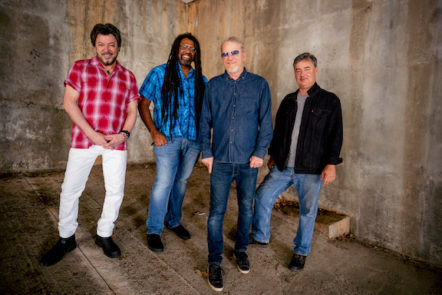 Cracker 2022 (photo: Jason Trasher)
~~~~~~~~~~~~~~~~~~~~~~~~~~~~~~~~~~~~~~
PRESS RELEASE FOR CRACKER'S 2014 ALBUM "BERKELEY TO BAKERSFIELD"
CRACKER'S  DOUBLE-ALBUM "BERKELEY TO BAKERSFIELD" OUT NOW THROUGH 429 RECORDS!
Cracker's tenth studio effort, the double-album entitled Berkeley To Bakersfield, finds this uniquely American band traversing two different sides of the California landscape – the northern Bay area and further down-state in Bakersfield.
Despite being less than a five-hour drive from city to city, musically, these two regions couldn't be further apart from one another. In the late '70s and '80s a harder-edged style of rock music emerged from the Bay area, while Bakersfield is renowned for its own iconic twangy country music popularized, most famously, by Buck Owens and Merle Haggard in the '60s and '70s. Yet despite these differences, they are both elements that Cracker's two cofounders, David Lowery and Johnny Hickman, have embraced to some degree on nearly every one of their studio albums over the last two decades. On Berkeley To Bakersfield, however, instead of integrating these two genres together within one disc, they've neatly compartmentalized them onto their own respective regionally-titled LPs.
As Lowery explains, "On the Berkeley disc the band is the original Cracker lineup – Davey Faragher, Michael Urbano, Johnny and myself. This is the first time this lineup has recorded together in almost 20 years. We began recording this album at East Bay Recorders in Berkeley, CA. For this reason we chose to stylistically focus this disc on the music we most associate with the East Bay: Punk and Garage with some funky undertones. To further match our sense of place we often took an overtly political tone in the lyrics."
"This Bakersfield disc represents the 'California country' side of the band. Throughout the band's 24-year history we've dabbled in Country and Americana but this time we wanted to pay homage to the particular strain of Country and Country-Rock music that emerges from the inland valleys of California."
Cracker's Berkeley To Bakersfield is out now via 429 Records and is available on CD and digital formats.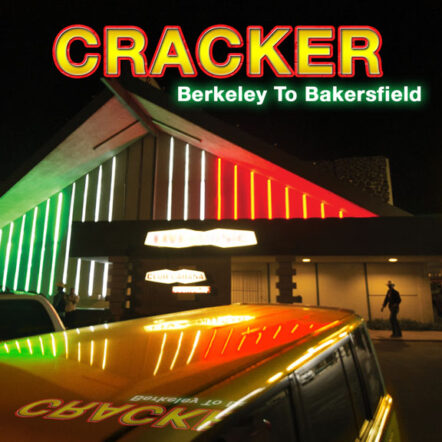 Disk 1 Berkeley Tracklisting:
1. Torches and Pitchforks
(Faragher/Hickman/Lowery/Urbano)
2. March of the Billionaires
(Faragher/Hickman/Lowery/Urbano)
3. Beautiful
(Faragher/Hickman/Lowery/Urbano)
4. El Comandante
(Faragher/Hickman/Lowery/Urbano)
5. El Cerrito
(Faragher/Hickman/Lowery/Urbano)
6. Reaction
(Faragher/Hickman/Lowery/Urbano)
7. You Got Yourself Into This
(Faragher/Hickman/Lowery/Urbano)
8. Life In The Big City
(Faragher/Hickman/Lowery/Urbano)
9. Waited My Whole Life
(Carusoe/Lisher/Lowery)
Disk 1 Berkeley band line-up:
Davey Faragher: Bass and Backing Vox
Johnny Hickman: Guitars and Backing Vox
David Lowery: Guitars and Vocals
Michael Urbano: Drums and Percussion
With
Thayer Sarrano: Keys and backing vocals
Marc Gilley : Saxophones
Mark Golde: Additional keys
Disk 2 Bakersfield Tracklisting:
1. California Country Boy
(Lowery/Summar)
2. Almond Grove
(Lowery)
3. King Of Bakersfield
(Lowery)
4. Tonight I Cross The Border
(Lowery)
5. Get On Down The Road
(Lowery)
6. I'm Sorry Baby
(Faragher/Hickman/Lowery)
7. The San Bernardino Boy
(Hickman/LeRoy)
8. When You Come Down
(Lowery)
9. Where Have Those Days Gone
(Lowery)
Disk 2 Bakersfield band line-up:
Davey Faragher: Backing Vocals
John Hickman: Guitars and Vocals
Bryan Howard: Bass Guitar
David Lowery: Guitars, Banjos and Vocals
Sal Maida: Bass Guitar
Luke Moeller: Fiddle
Thayer Sarrano: Keyboards, Guitar and Vocals
Matt "Pistol" Stoessel: Pedal Steel
Jeremy Wheatley: Drums
Recorded by: Drew Vandenberg with additional engineering by John Morand, David Lowery, Bond Bergland, David Barbe and Mark Golde. Mixed By Drew Vandenberg.
Recorded at: East Bay Recorders in Berkeley, CA, Chase Park Transduction in Athens, GA, Rock Garden Studio in Appleton, WI, and We're Clothes Studios in Richmond, VA.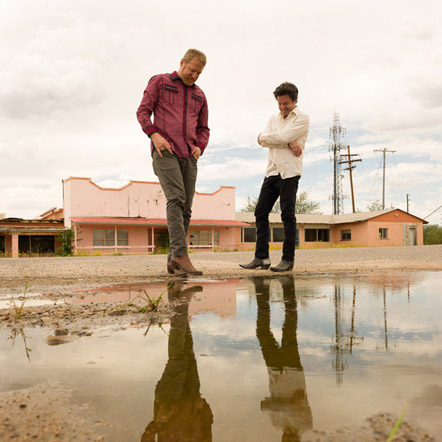 Cracker's David Lowery & Johnny Hickman (photo: Bradford Jones)
"CALIFORNIA COUNTRY BOY" VIDEO
FOR MORE INFO ON CRACKER:
http://www.crackersoul.com
https://www.facebook.com/CrackerSoul
FOR MORE INFO ON 429 RECORDS:
http://www.429records.com
FOR INTERVIEW & MEDIA REQUESTS:
Tony Bonyata
Pavement PR
p: 262.903.7775
e: bonyata@wi.rr.com
https://pavementpr.com
~~~~~~~~~~~~~~~~~~~~~~~~~~~~~~~~~~~~~~
PRESS RELEASE FOR CRACKER'S 2009 ALBUM "SUNRISE IN THE LAND OF MILK AND HONEY"
Cracker, the group that veritably introduced brash irreverence and irony into alt-rock, are back and in top form on their 429 Records debut, Sunrise In The Land Of Milk And Honey.
This rich new trove of sharp-witted songs showcases a bristling, late 70's – early 80's power pop punk aesthetic, which hits as hard as it did at the band's formation 17 years ago. Eight albums (one platinum and three gold) and a barrel full of anthemic hit songs later, Cracker endures, using their ability to weave decades of influences into an album that is seamlessly riveting.
In Sunrise…, long-time partners David Lowery and Johnny Hickman, 12-year Cracker drummer Frank Funaro and bassist Sal Maida (since 2006), train a watchful eye on the current socio-musical landscape as they weave an eerie yet strangely soothing story of escapism, apocalypse and renewal. Friends John Doe, Patterson Hood and Adam Duritz (whose mega-band Counting Crows was once produced by Lowery) make spirited guest appearances. The recording was helmed by Athens, GA-based producer/engineer David Barbe, a longtime friend of Lowery who has manned consoles for the likes of Son Volt and the alt-Southern rock band Drive-By Truckers.
The explosive title track that wraps the 11-song collection is thematic, belying its seemingly cheery title to take a tough-edged look at the precarious times we live in. Ever the observant storyteller, Lowery calls it like he sees it: the affluence and wealth America seemed to have these past decades was built on a mirage. The sun shines a harsh light on a landscape of decay. The golden age, the promised land, the land of milk and honey, never materialized.
For Sunrise…, Lowery and Hickman took a new approach to their creative process, joining Funaro and Maida to write most songs from scratch. (Whereas on previous albums, Lowery and Hickman would bring near-finished tracks to the rest of the band.) Cracker were self-disciplined— writing together one week every two months, between tours, for a year. The goal was to work on two songs per day—and somehow, the combined force of their distinctive and mutual influences gave rise to a crackling, raw musical factory of sorts.
Says Lowery, "The coolest part of making the new album was the self-imposed time structure we created, the fact that we all gathered to write these songs like it was an actual job. At one point, when we had four songs that needed lyrics, Johnny and I went to the legendary punk studio, The Blasting Room, in Ft. Collins CO, and rented the B room, where we stayed until we had the right words. It was refreshing to do it this way, to challenge ourselves to write with the clock ticking. It was like starting a band and committing to a rehearsal time. We weren't kicking back on an island in the Caribbean, waiting for the muse to hit us. We got down to work, found the punk and glam rock in our blood and woke up to Sunrise In The Land Of Milk And Honey."
Considering drummer Funaro's background playing with The Dictators and Joey Ramone, and bassist Maida's background with Roxy Music and Sparks, it was inevitable that the new album would acquire its own unique edge.
"It was a little different involving Frank and Sal's musical tastes and their background from the get-go," says Lowery, "but this led us to realize the common element we all share. We all came of age playing power pop-punk and that early new wave stuff. Once we got on this path, it started surfacing in so many songs that it became a thematic element for the whole project. We all started playing music in that era so we weren't surprised when those sounds started rising up. Sunrise…isn't the 'Cracker punk record' but it's definitely got that time stamp, the '78-'83 flavors, all over it. The other thing we did differently was actually playing all the songs in concert before ever committing them to digital. Most bands do the album first, then take the tunes on the road."
"In a lot of ways, the methodology behind this album brought us all back to when we all started our early bands, when the opportunity to write and record albums came after playing tons of live shows," adds the Richmond, VA-based singer. "I think one of the reasons Cracker has survived this long when so many of the bands that started in the early 90s faded is that we've always made the record we want to hear right now. We've always had the belief and confidence that others will feel like we do. Eclecticism was the norm for bands in the 60's, 70's and into the 80's, and that freedom leads to great bursts of creativity and the potential to make classic albums that stand the test of time."
The first album track explodes with a slicing guitar riff from Hickman. "Yalla Yalla" is a colorful rumination on an Arabic phrase meaning, "Let's go." Lowery heard U.S. soldiers greeting each other this way at the Atlanta airport. "Like rock musicians, soldiers in every era have their own language of bravado and machismo," he says. The band dives deep into the punk on the frenetic "Show Me How This Thing Works," a song inspired by Lowery helping a friend with a quantitative finance problem; the singer is proud that he was once a budding mathematician.
"Turn On Tune In Drop Out With Me" is a lilting pop/rock reminder that in these precarious times, many may feel like returning to the bold escapism of the 60s, of the hippies who left the rat race behind to "drop out" into spiritual refuge. The blistering "Hand Me My Inhaler" finds its hapless protagonist blustering at an ex-girlfriend's door, "gonna reform the band without you."  Hickman says of the blues-funk "I Could Be Wrong, I Could Be Right," "When I hand David a melody like this one, I have no idea where he's going to take it, and I love that. Suddenly the devil and members of the Lewis and Clark expedition were caught up together in some sort of a psychedelic love conspiracy."
"Time Machine," a black-booted, Celtic-riffed, early-punk kick to the jaw of any pretenders, was inspired by a conversation Hickman had with Black Flag and Descendants drummer Bill Stevenson (who co-founded The Blasting Room studios). Hickman and Stevenson both realized that they had been caught up in the same early 80s punk rock riot at a legendary Dead Kennedys show. It's a message to today's punks that they perhaps couldn't have survived what the previous generation endured.  "I took a couple of billy club hits that night," Hickman says, "I got off easy."
Punk-and-now-Americana legend John Doe harmonizes on the throbbing, surf guitar driven, "We All Shine a Light." This swarming, Buzzcocks-like rocker is a comment on multicuturalism and tolerance, by way of an ode to Pakistan's cricket team, the Peshawar Panthers. Patterson Hood of the Drive-By Truckers duets with Lowery on the swampy, folk-Americana of "Friends," a drunken tale of dysfunctional but loving friendship. One of the album's more poignant moments arrives when Adam Duritz guests, singing alongside Lowery on the romantically selfless "Darling One."
The stomping, harmonica-laden "Hey Brett, You Know What Time It Is" came from a sardonic line uttered to Lowery by Built To Spill's Brett Netson, during an exchange of ever-escalating shockeries. Lowery recalls, "He walked into our dressing room and joked, 'Will we know when it's time to start dragging rich people from their cars and killin' em'?' For Frank and me, it grew into a text message exchange and later a song."
A brief rundown of Cracker's history: Lowery, in the mid-80s, in Santa Cruz, California, formed Camper Van Beethoven, and their "Take the Skinheads Bowling" became an instant college radio staple. When CVB disbanded on tour in Sweden, following their second major label release, Lowery formed Cracker with his longtime friend Johnny Hickman. (The pair had met on the local music scene as teenagers in Redlands, CA.) Cracker's emergent sound had less in common with Camper's exotic excursions and was more in synch with the Kinks and Southern roots music. They released their self-titled debut on Virgin, and following the #1 Modern Rock hit "Teen Angst (What The World Needs Now)," the band became a minor commercial sensation (complete with then-significant MTV exposure). The platinum-selling Kerosene Hat contained the enormous, era-defining hit single "Low," as well as "Get Off This," and "Eurotrash Girl." When the dust settled, Cracker found themselves with an ever-growing, devoted following both in the U.S. (where fans refer to themselves as Crumbs) and throughout Europe. Today the band stays well connected to yet another generation of fans via internet, many of whom were kids when these alt-rock godfathers were first ruling rock radio.
For media and interview requests:
Tony Bonyata
Pavement PR
p: 262.903.7775
e: tony[at]pavementpr.com
https://pavementpr.com
[Four stars!] David Lowery's piercing intelligence and smartass humor click on Sunrise, his smoke-stained voice adding genuine soul to the quartet's chunky guitar pop. – SPIN
Lowery remains a powerful artist—and Cracker's album from last year, Sunrise in the Land of Milk and Honey, is among that band's best works. TIME OUT NEW YORK
Cracker's new album, Sunrise in the Land of Milk and Honey finds the band in renewed dynamic form with visceral guitar hooks, insistent beats, along with Lowery's trademark wry lyrics. – INTERVIEW Magazine
[A-] Cracker carries on in the grandly sarcastic/ironic traditions of Bob Dylan, the Rolling Stones and the Grateful Dead with a fresh set of vocally rough hewn, guitar and organ-scorched rockers. Welcome back. – Philadelphia Daily News
In a world overrun with vacant hipsterism, we arguably need the cantankerous musings of Dave Lowery and the recently revived Cracker now more than ever. – Eye Weekly / Toronto
Cracker has responded to this changing world with a vintage Cracker album – characterized by alt-country hooks, power guitar chords and Mr. Lowery's reedy yet forceful voice. – Washington Times
Sunrise in the Land of Milk and Honey is another in a long line of smart, strange, tuneful, and well-crafted albums. – The Boston Globe
David Lowery, Johnny Hickman, Sal Maida and Frank Funaro serve notice that, despite the indie label, Cracker remains a major band with big hooks, solid lyrics and attitude to spare. – RELIX Magazine
David Lowery lends a life-or-death enormity to the simplest of phrases. – TIME OUT New York
Sunrise is an awesome guitar-rock album that's sure to make many a top-10 list this year. – The Georgia Straight / Vancouver
Sunrise In The Land Of Milk And Honey, and its quirky, soulful grooves and smart lyrics don't disappoint. – The Vancouver Sun
What ties everything together is a rare professionalism – guitarist Johnny Hickman is one of the more unheralded musicians playing today – and a swagger that comes through by way of their indifference to trends or styles. They're good, they know it, and those who don't get it aren't worth worrying about. – Pittsburgh Tribune-Review
… wicked, unapologetic and catchy as hell. – Houston Press
[9/10] There isn't a duff track on 'Sunshine….'. Lowery has re-discovered his keen sense of lyrical mischief, while Hickman still knows how to make his Les Paul wail like no other. Crucially, long time band member Frank Funaro and relatively new bassist Sal Maida dovetail with Lowery and Hickman to form the most rocking version of the band since Davey Faragher jumped ship back in the mid-nineties. – Americana UK
On Cracker's latest, Sunrise In The Land Of Milk And Honey, David Lowery's having fun doing doughnuts at the crossroads of dirty country sensibilities and weird globe-trotting lyrics. – Philadelphia City Paper
…kind of like an old friend dropping by (except this old friend still rocks on occasion like a younger friend). – BLURT magazine
With a minimal amount of stage banter and a maximum amount of face-melting guitar solos, Cracker banged out a stellar set of rock 'n' roll music that made us think that maybe a '90s rock revival isn't such a bad thing after all. – Nashville Scene
For a band that's been around for close to two decades, Cracker sounds remarkably fresh and energized on its latest album, "Sunrise In The Land Of Milk And Honey." Whether wryly commenting on the state of the world or paying homage to a close-but-dysfunctional friendship, David Lowery, Johnny Hickman and crew have delivered some of their best material in years. – The Portland Tribune
On Sunrise in the Land of Milk and Honey, Cracker still shines their light bright nearly two decades since formation. – Synthesis Magazine
David Lowery, Johnny Hickman and company reaffirm their rock cred on this solid outing. – Pasadena Weekly
Sunrise in the Land of Milk and Honey is like a jukebox — a great mixed bag of sounds and influences that reflects the band's early '70s-'80s pop-punk and New Wave influences. – The Patriot-News
If Cracker can continue firing on these razor sharp cylinders, there's no reason the guys can't keep cranking out the jams for another 20 years" – Hear/Say Magazine
David Lowery and his crew still have rootsy drive and twisted humor. – The Boston Herald
At a point in their career when most of their peers are unplugging, turning down and wussing out, Cracker has tapped into some unchecked aggression and started rocking out like never before. Sunrise in the Land of Milk and Honey still delves into twangy alt-country and bluesy slide guitar, but the bulk of these 11 songs are amped-up, fuzzed-out ravers. Searing solos, gang vocals and maximum riffage grab the ear, but it's the lyrics that will keep you coming back. … The band's most collaborative album to date is also one of its best. – Fast Forward Weekly / Calgary
… should ruffle feathers and inspire a few choruses of "Hell yeah!" – Raleigh Independent Weekly
…as good as everything on Cracker or Kerosene Hat. No shit. – REAX music magazine
Nothing says "let the good times roll" like a new Cracker record. Their latest single "Turn On, Tune In, Drop Out with Me" is quite possibly the alt-rock favorites' most gorgeous composition to date. – Duluth News Tribune
There is a strain of quirkiness in the band that's manifested itself on its ninth studio album Sunrise in the Land of Milk and Honey, a meeting place for late '70s-era California punk swagger and No Depression-flavored Americana gilded by guest shots by Adam Duritz, John Doe and Patterson Hood. – Long Island Press
If there's one constant in Cracker's career, it's simple: they know how to rock. Sunrise in the Land of Milk and Honey boasts a strong set of infectious, punchy songs… all decked out with a pounding rhythm section, throbbing guitar chords, and a slick set of hooks. – Indieville
Cracker's best record in years –  "Sunrise…" will remind you why you loved this rock band in the first place, while also offering a fresh urgency and relentless drive. David Lowery's firecracker wit and intelligence is as explosive as ever, with up to date commentary on the world at large, as well as his own unique brand of love song. Mix that with the high energy musicianship the band is known for, and this a very satisfying listen. – Extra! / Toronto
…a collection of hard-edged tracks that expose their socially opinionated humanity, augmented by pieces that transcend the alt-rock genre. Sharp witted and seasoned in a music scene where very little newness is left, they have managed to posit an original collection of thoughts and sounds that surprises and inspires. – Playback:stl
… another worthy addition to Cracker's body of work. – Tandem Magazine / Toronto
Cracker's ninth studio album Sunrise in the Land of Milk and Honey is a meeting place for late-Seventies-era California punk swagger and No Depression-flavored Americana.  – East Bay Express / San Francisco
Sunrise in the Land of Milk and Honey will remind all the Cracker / Camper Van Beethoven fans out there that David Lowery is a clever lyricist and the band's mix of country and punk remains infectious. – OnMilwaukee
Cracker are better than they've ever been at honoring both the straight and the twisted sides of their musical personality. Sunrise in the Land of Milk and Honey, is as engaging and enjoyable as anything they have released since Kerosene Hat in 1993. – All Music
In Sunrise…, long-time partners David Lowery and Johnny Hickman, 12-year Cracker drummer Frank Funaro and bassist Sal Maida (since 2006), train a watchful eye on the current socio-musical landscape as they weave an eerie yet strangely soothing story of escapism, apocalypse and renewal. – Maine Today
Weaving a decades worth of influences into their newest album Sunrise In The Land of Milk and Honey, the album is dominated by alt-rock guitar riffs, quirky lyrics, catchy hooks and pop/rock melodies.  Cracker is definitely a unique and defining force. – Metromix Washington DC
…careens from maniacal punk to sullen country putting the fun into dysfunctional. – Glide Magazine
A rollicking return. – Montreal Gazette
After seventeen years the band is in top form on this strong, solid record. – Lumino Magazine
Sunrise in the Land of Milk and Honey is as feral and relevant as the band's platinum breakthrough, Kerosene Hat, was at its time. Alternating between punk-infused barnburners and wry, acerbic pop songs, the album calls upon some of the band's earliest influences, from the Buzzcocks and the Clash to Elvis Costello. – Fly Magazine
Sunrise In the Land of Milk and Honey is solid from start to finish. – QRO Magazine
… a glorious return to the music scene. – Blog Critics
… their toughest, most tenacious effort yet. – Bullz-Eye
On the group's newest album, Cracker demonstrates deep command of rock 'n' roll essentials. Much of Sunrise sounds indebted to classic '70s Stones (even the Americana influences seem filtered through Beggars Banquet), when they aren't drawing from the energy of punk. Most of all, Cracker is in control of the surging dynamics and killer riffs, the song craft, of great rock. – Shepherd Express / Milwaukee
Sunrise in the Land of Milk and Honey is an album dominated by loud guitars and biting lyrics. – Louisville Courier-Journal
…a unique sensibility that suppresses artier impulses with snarling guitars.. – Arkansas Democrat Gazette
Sunrise in the Land of Milk and Honey, is another unassuming gem laced with bittersweet lyrics and guitar hooks galore. – Lexington Herald-Leader
… rocking majorly. – Louisville Music News
Cracker's new release Sunrise in the Land of Milk and Honey is an adrenaline shot to the heart. Awesome! – Ivory Towerz
Seventeen years and a couple lineup changes haven't slowed down the '90s survival act. – LEO Weekly / Louisville
During their 17-year career, Cracker has quietly released some of the best alternative rock albums of the past two decades. The band's latest, "Sunrise in the Land of Milk and Honey," finds frontman and main songwriter David Lowery in his usual fine form. – South Carolina Independent-Mail
Sunrise in the Land of Milk and Honey is a surprisingly raw rock album heavy on spiky punk-rock guitar riffs. – Monterey County Weekly
Sunrise in the Land of Milk and Honey is DAMN good. This is the no-bullshit straight-up rock record that music fans have been waiting for. – Addicted To Vinyl
Cracker is back in a big way with their latest release, Sunrise In The Land Of Milk And Honey, an album which combines alt country "Americana" with a late '70s/early '80s punk sensibility. – Online Rock