Click here to download a new hi-res photo Charles Ellsworth (photo: J. Allan Kelley) and Honeysuckle Summer cover art
AMERICANA SINGER-SONGWRITER CHARLES ELLSWORTH TO RELEASE HIS NEW STUDIO ALBUM HONEYSUCKLE SUMMER MARCH 5TH, 2021
Brooklyn transplant (by way of the White Mountains of Arizona) Charles Ellsworth will be releasing his latest studio album Honeysuckle Summer on March 5th 2021. Just as the pandemic was taking seed around the country earlier this year, the singer-songwriter managed to recruit several musicians from the Brooklyn music scene – including Jared Schapker (Grandpa Jack) and Blake Suben (Dirty Bird) — to help him record this album with producer Joe Reinhart (Hop Along, Algernon Cadwallader) at his Headroom Studio in Philadelphia.
Honeysuckle Summer is Ellsworth's demonstration of coming full circle — telling his "whole story so far." In working to overcome his own traumas, through self-exploration and new-found sobriety, he became acutely aware of how all of the minutia one experiences throughout life add up to an eventual person and how we have a choice on what to do with them. If not addressed, they can create problematic patterns that carry through life or we can embrace the good and do the work to overcome the bad.
As is the case with any songwriter, much of Ellsworth's past work has drawn from his own past experiences. At face level, this album seems to be no different. However, Honeysuckle Summer addresses the many parts of his youth that he previously has been unable or unready to talk about. In early childhood, Ellsworth's father was abusive. Physically, mentally, and sexually, and as the oldest boy, he was often the target of his heavy hand. When Ellsworth was just 12, his father was sentenced to twelve years in prison — turning the family's life upside down. This album is about Ellsworth finally coming to grips with the extent of his own trauma and his journey from a suicidal rock bottom to a place of health and contentment he'd not previously known — which allowed him to open up and finally be able to tell these stories.
The coming full circle theme is also evident in his sound. It's been a slow progression with a lot of little shifts to reach his current sound. Charles grew up on Mormon hymns and Top 40 country, but later rejected that as a teen, opting for classic and alternative rock. Most of his early solo music was indie folk, but more recently (his 2017 LP Cesaréa, recent singles, and new record), he's finally embraced his Americana roots and settled comfortably into a new alt-country sound in the vein of Jason Isbell and Sturgill Simpson — which is where the music on this album falls.
Charles Ellsworth's new studio album Honeysuckle Summer will be available on vinyl, CD and digital/streaming platforms March 5th 2021 via Burro Borracho Records.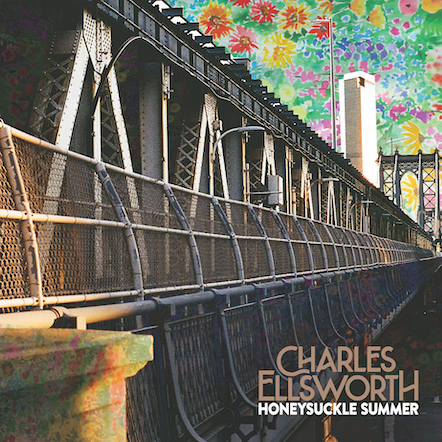 FOR MORE INFO ON CHARLES ELLSWORTH:
charlesellsworthmusic.com
charlesellsworth.bandcamp.com/music
facebook.com/charles.b.ellsworth
FOR MORE INFO ON BURRO BORROCHO RECORDS:
burroborrachorecords.com
FOR MEDIA & INTERVIEW REQUESTS:
Tony Bonyata
Pavement PR
e: tony[at]pavementpr[dot]com
pavementpr.com