Cave States is an American indie-band, formed by Chris Grabau, Danny Kathriner and Todd Schnitzer. The St. Louis-based band often interweaves introspective lyrics, orchestral restraint and experimental soundscapes.
Veterans of the St. Louis Americana music community, the three songwriters have led or supported some of the region's best-known bands including Magnolia Summer, Half Knots, Nadine, Colonel Ford, Wagon and Waterloo. However, Cave States marks their first collaborate partnership.
In 2013, the trio quietly released their first album, The Great Divide, to international acclaim. While Eleven Magazine (St. Louis) stated, "It's collaboration at its finest… a seamless wave of harmonies punctuated with the squeak and chirp of fingers on strings that never venture into the darkness the band's name implies." Americana UK called Divide, "an album to savor and revisit," while other reviews likened the band's music to The Jayhawks, Will Oldham and Jason Molina.
In 2016, they released their second album, True Life to more critical praise. The album marked a notable evolution of the band's sound, while retaining many of the same aesthetics established by their debut. While American Songwriter tagged this evolution as, "Wilco-esque Americana," No Depression praised the album as "engaging as it is inspired. It would be hard to find a better example of songwriting skills and adept elocutions all combined within the same set of songs." Americana UK noted the album "rewards the listener over multiple spins… its catch, it's incisive and it sounds fabulous."
After the release of True Life, Cave States' live presence evolved into a six-piece band. They performed regionally as well as a series of house concerts. However, in 2018 the band retreated back to the studio to work on a new album. While the process has taken over three years, Cave States is poised to reemerge in 2020 with a new collection of songs. First up is their three-song EP The End Is Around The Corner, including the title track as the first single. The songs were written, recorded and mixed at Schnitzer's Popscreen Studios.
Written by Kathriner, the title track originated from a songwriting process where he and fellow songwriter Grabau randomly drew from a series of prompts to help kick-start song ideas. Grabau states, "Danny and I will sometimes write prompts on pieces of scrap paper and put them into a cup. He drew the phrase and it resonated with us immediately. We talked about how the absurd concept of 'the end times' had an influence on our upbringing and the people around us. We both grew up in semi-rural communities informed by the Book of Revelations. The 'end of days' were always just around the corner."
Kathriner adds, "[the song] seemed gloomy at first so I turned it around and made *ending* about new beginnings. For the record, the song was written well before the current crisis, but it seems now to fit the ongoing situations, be it political, social, economic or even the pandemic. Maybe something good and positive will come from all of this."
Grabau affirms, "As we are seeing now – with a world filled with uncertainty and some very scary outcomes, we are hoping for a new beginning. Perhaps this uncertain time will give space for a new reality committed to social justice, care and kindness"
The song seams Kathriner's intimate voice with lilting piano, minimal percussion and staccato strings. Topped off with a chorus of voices provided by guests Joey Dressalaer and Stephanie Stewart, the EP previews an expansive sonic landscape composed of Schnitzer's baroque experimentalism.
Also included in the EP are the songs "Onions and Apples" and "Don't You Wish It Were True." Look for more music by Cave States to come in late 2020.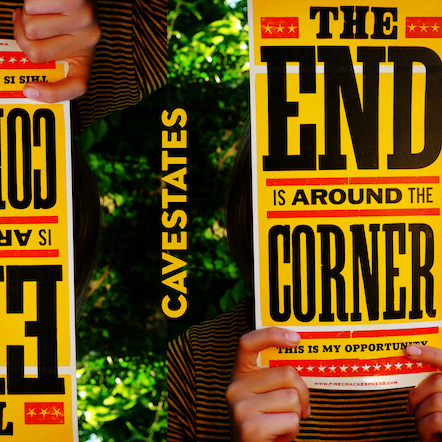 Cave States new three-song EP The End Is Around The Corner is out now on all digital and streaming platforms.
MORE INFO ON CAVE STATES:
http://www.cavestatesmusic.com
MEDIA & INTERVIEW REQUESTS: 
Tony Bonyata
Pavement PR
e: tony[AT]pavementpr.com
https://pavementpr.com
~~~~~~~~~~~~~~~~~~~~~~~~~~~~~
~~~~~~~~~~~~~~~~~~~~~~~~~~~~~
PRESS RELEASE FOR CAVE STATES 2016 ALBUM TRUE LIFE…
Cave States is a band from St. Louis, MO and is a collaboration between songwriters, Chris Grabau, Danny Kathriner and Todd Schnitzer.  The band's name is inspired largely by a nickname given to the state of Missouri and Plato's Allegory of the Cave.
For over 20 years, the members of Cave States have led or supported a number of well known St. Louis bands including Magnolia Summer, Half Knots, Nadine, Colonel Ford, Wagon and Waterloo; however, Cave States is their first songwriting collaboration.
This spring they'll be releasing the follow-up to their acclaimed 2013 debut effort, The Great Divide, entitled, True Life.  The new album employs a decidedly more elaborate approach to composition while retaining many of the same aesthetics established in their first LP.
"This is the first album we can call a true studio album," Grabau explains.  "Although Danny and I would bring in demos and song ideas, the songs were completed while working with Todd in his studio.  Most of what you hear on the final album started with the three of us playing around a couple of microphones.  This is the most collaborative batch of recordings we have done to date."
The 10 original songs written for True Life pull away from the folkier tendencies found on their first record. The opening track, "Commuter," is a wry reflection set to a backdrop of mournful pedal steel, while "No Words" is set to an insurgent pulse reminiscent of Good Earth-era Feelies or The Vulgar Boatman.  "In The Dark" is a swirling mantra on humility, whereas the jangly "Over and Done" introduces some of Grabau and Kathriner's pop sensibilities into the mix.
True Life also features the band's first recorded cover song – Badfinger's "Take It All."  Grabau adds, "Danny and I were hanging out one night playing covers and he brought up the song. I fell in love with it immediately.  We recorded the song live to a drum machine with Danny playing Wurlitzer.  We weren't planning on including a cover song, but we love how the recording turned out and felt that it fit perfectly with the general themes and aesthetics present on this album."
Thematically, Kathriner and Grabau found themselves a bit surprised about topics related to life and death kept appearing in their songwriting. Grabau explains, "I think mortality looms large over this batch of songs, which was something we first discovered only after listening to them as a collection.  While that was a bit of a surprise for us, I don't think of this as a downer album.  I think of True Life as a snapshot of experiences that embody our lives—the mundane and beautiful moments, the feelings of love, regret, sadness, and endurance.  All of these moments have their place. And, that realization was a bit cathartic.  Perhaps we found a little sense of grace that may translate when listening."
Cave State's True Life will be self-released on CD and digital formats April 29th.
MORE INFO ON CAVE STATES:
http://www.cavestatesmusic.com
MEDIA & INTERVIEW REQUESTS: 
Tony Bonyata
Pavement PR
e: tony[AT]pavementpr.com
https://pavementpr.com