Click here to download new photos of Bobby Harden (credit: Rosie Cohe) and "Bridge of Love" cover art
How do you define a true Soul Man? With difficulty, given that so much is down to a certain mystical mojo. But if anyone knows one when they see him, it would be Stax legend Eddie Floyd, who has spent 60-plus years perfecting the role. When Bobby Harden joined the star-studded Blues Brothers Band in 2012 as one of two singers in support of Floyd, the elder Soul Man immediately recognized similar qualities in his understudy. "He was everything I'd been when I was younger," said Floyd, who gracefully passed the torch after several tours tag-teaming on stage. "I always tell him. 'I saw you, my man,' and I said, 'That's it! I can go back to the house and rest!'"
You get the sense it will be many years until Harden makes a similar transition into retirement. The true Soul Man, after all, lives to work, recognizing that success don't come knocking on the door with a gold-plated invite. Born in Youngstown, Ohio, Harden was blessed with a voice to raise roofs, and after a stint in Houston attending college, headed up to New York City to pursue his passion. It wasn't always easy, but years singing soul classics on the wedding band circuit sharpened that church-trained voice and polished his moves in the process; they also instilled in Bobby the necessary professionalism to not just survive, but thrive on a slow, yet inexorable, rise in reputation.
Being invited into the Blues Brothers Band, alongside the likes of Steve Cropper, 'Blue' Lou Marini, Matt 'Guitar' Murphy and of course, Eddie Floyd, provided Harden with a public seal of authenticity, and private assurance that he was on the correct spiritual life path. Then, just as the Blues Brothers Band began to age out, and in-between two albums Bobby released with his own live band, Soul Purpose, he was introduced to Daptone artist Charles Bradley's trumpet player/producer Billy Aukstik by Kurtis Powers, head of celebrated 24/7 online station The Face Radio. Suddenly, Harden found himself in a different domain, alongside a younger generation of soul musicians and entrepreneurs whose respect for the form was emboldened by a desire to render it thoroughly now. Following Bradley's tragic demise, Aukstik set up his own label, Dala Records, rearranged Bradley's backing group into The Soulful Saints, and launched Bobby Harden on Dala in tandem with Powers' own BQE label. The impressively exuberant single 'Runnin' (To Get to Your Love)' won instant plaudits and sold out its vinyl pressing in almost no time.
Now, following an equally funky second 45, 'Feels So Good', comes Bridge of Love, on which Harden's voice is tailored to perfection by the almost impossibly dexterous Soulful Saints, and further dressed to the nines by an accoutrement of Latin percussion, full-on horns, high-flying backing singers and even a string quartet. The album's ten original compositions are presented in sparklingly clear stereo sound and run the soul gamut, from grits-n-bricks R&B ('Played a Fool by You') to throwback psychedelia ('One Tribe'), svelte seventies pop ('One Night of the Week') and some seriously sophisticated ballads ('Wounded Hearts', 'Bridge of Love'). Together they document Bobby's life journey in song. Through youthful self-doubt in the opening track 'It's My Time', to confirmation on the exuberant finale 'Raise Your Mind', Bobby proves that faith and hard work can pay dividends. "Life is a joy when you free your soul."
Having gotten to know Bobby personally over the last several years, I can pay testament to his strength of spirit. Onstage, regardless of the group behind him or the co-vocalists alongside him, he knows that 99 ½ just won't do; this is a man who sweats with the best of them even as every last note remains on pitch. Offstage, Bobby presents with similar intensity of personality but also genuine humility, a recognition that, as he sings on 'It's My Time', "the hurdles will come," but you "don't let them bring you down." Bobby has lived and loved, loved and lived, and his experiences, alongside the performances, have helped make him that true Soul Man. With Bridge of Love, yes indeed Lord, his time has come. ~ Tony Fletcher
Bobby Harden & The Soulful Saints' Bridge of Love album will be available on vinyl, CD and digital/streaming platforms May 12th via Dala Records / BQE Records.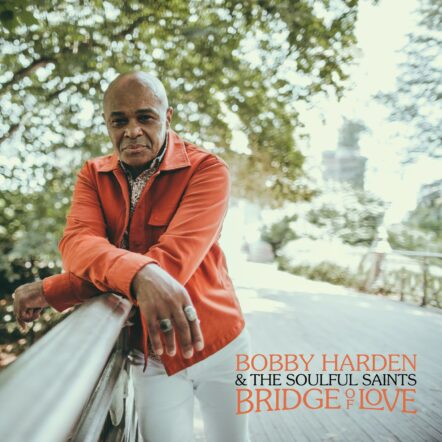 Bridge of Love Tracklist:
01  It's My Time
02  One Tribe
03  Feels So Good
04  One Night of the Week
05  Wounded Hearts
06  Played a Fool by You
07  Bridge of Love
08  Butterfly
09  Runnin' (To Get to Your Love)
10  Raise Your Mind
FOR MORE INFO ON DALA RECORDS:
FOR MORE INFO ON BQE RECORDS:
https://www.facebook.com/bqerecords
FOR MEDIA & INTERVIEW REQUESTS:
Tony Bonyata
Pavement PR
p: 262.903.7775