Click here to download two new hi-res photos of Arthur Alexander (photo credit: Jeremy White) and One Bar Left album art
When the scourge of rock 'n' roll crossed the Atlantic and invaded Europe in the late 1950s, most people thought it was just another passing fad from America.  But no one imagined in their wildest dreams that this "fad" would also be the force that would deal the fatal blow to communism and tear the Eastern Europe's Iron Curtain to shreds. No amount of Soviet tanks and bayonets was a match for this tsunami. But a young kid growing up in Warsaw, Poland, did know. He heard that sound and knew instantly this was BIG; this was no fad, this was the sound of rebellion. Hearing Bob Dylan's words, "… But even the President of the United States sometimes must have to stand naked," he knew it was time to kick ass – with electric guitar. Lucky for him, the communist authorities didn't take kindly to his ideas and, in no time at all, kicked his ass – straight out of the country.
Arthur Alexander did what he's always done – he went for the jugular. "America, here I come!"
Faster than you can say "Polska Kielbasa," Arthur was helping to form The Poppees, one of the hottest bands in NYC at the dawn of the punk rock era, a time that changed the face of rock 'n' roll forever. The Poppees, often dubbed "The Fab Four Of The Bowery," played regularly at Max's Kansas City and CBGB's and became the very first new artist signed by the visionary Greg Shaw to his Bomp! Records label. The band accrued critical acclaim and ignited the just-burgeoning American power-pop scene. Leaving The Poppees behind, Arthur founded his new band, Sorrows, one of the most supercharged power-pop bands NYC had seen, staggering their audiences with blistering live shows. Sorrows scored a label deal with CBS Records and released two albums, their debut Teenage Heartbreak becoming a classic, sought after by crate-diggers from Japan to Iowa. After Sorrows disbanded Arthur relocated to Los Angeles, working as an independent producer helping the next generation of young artists realize their musical vision.
Finally, after years of producing others, Arthur's own music came calling again. He selected a batch of songs he had written over the years and recorded his first solo album, One Bar Left, inviting his friends from Sorrows, Wojtek Pilichowski Band, Prima Donna, Dr. Boogie and The Blessings to come along for the ride.
From the opening thrust of "One Bar Left," to the irresistible guitar hook setting the pace for "Hard To Get," it's instantly clear that Arthur writes songs that hit the pleasure centers of the brain like a Howitzer. "Shot In The Heart" marries the wide-screen sound quality of an Ennio Morricone film soundtrack with Phil Spector's "Wall of Sound" like you haven't heard since – well, Phil Spector.
"I'll Get Your Love Someday" and its Merseybeat-meets-Rockabilly vibe displays the melding of styles Arthur incorporates while never sacrificing the intangibles that make songs hits. There are crunchers like "(She Got Me) Wang Dang Doodle" and a jagged-edged "Psycho-Automatic." "Money 'N Love" will make you think you walked into the AC/DC show – with a twist or two.  The punk-laced mayhem, chaos and venom of "Dead End Man" will leave you breathless, only to dissolve into the quiet warmth and beauty of "Hello Suzanne." "Just a Little Longer" (in English and French) has more memorable hooks jangling in your ears than you'll hear for the coming year.  And when Arthur decides to do a cover? He turns it on its head. You've never heard Sam Cooke's classic "Bring It On Home To Me" done like this before. Guaranteed.
It's impossible to deny the pull that great rock 'n' roll has. It's indescribable, but you know immediately when you hear it. Expect that feeling as soon as you hit "play" on this sucker. Arthur's credo has always been: "The song is King." He's known it forever. And after hearing this incredible collection of his songs, you'll know it's all about Arthur Alexander, ready to cement a musical legacy that launched some of the finest rock n' roll the downtown NYC scene ever produced.
Arthur Alexander's One Bar Left will be released May 4th on vinyl, CD, digital and streaming formats via Dead Beat Records.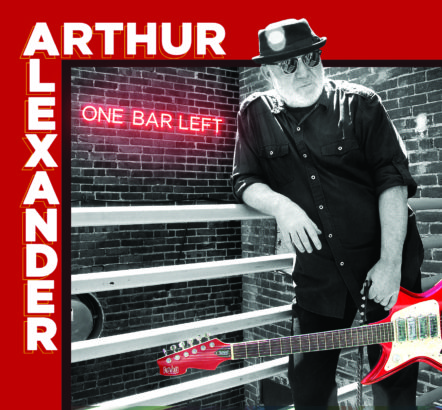 ~~~~~~~~~~~~~~~~~~~~~~~~~~~~~~~~~~~~~~~~~~~~~~~~~~~~~~~
MORE INFO ON ARTHUR ALEXANDER:
facebook.com/arthur.alexander.58
MORE INFO ON DEAD BEAT RECORDS:
http://www.dead-beat-records.com/
MEDIA & INTERVIEW REQUESTS:
Tony Bonyata
Pavement PR
e: tony[AT]pavementpr.com