Click here to download hi-res band photos of Ampline (credit: Keith Klenowski) and Passion Relapse album art
Kevin Schmidt, Rick McCarty and Mike Montgomery have been writing, recording and touring as AMPLINE since 2001. Since then, they've stitched their way across the United States many times and have done multiple tours in Europe and the UK. Passion Relapse is the group's fifth full-length album. It was recorded, mixed and mastered at Montgomery's Candyland; an analog-based recording studio located in Dayton, KY that has played recent host to acts such as; The Breeders, Protomartyr, Buffalo Killers, R.Ring, Ed Crawford (fIREHOSE), Courtney Barnett, The Tillers, Jeremy Pinnell, Bat Fangs (Betsy Wright/Ex Hex) and many others.
Picking up thematically where their last album (You Will Be Buried Here / Phratry Records) left off, the lyrics explore the interrelation of man, nature, industry and theology. Set atop a backdrop of a mythical sea voyage to find the Edge of the World, the songs weave a narrative of death, decay, invention and 'progress,' metering the growing gulf between corporeal and spiritual.
Tracking live to tape enabled the band to capture the energy of playing together in a room, imbuing the songs with a sense of cohesion and urgency. As raw and propulsive as it is, the new LP is some of the band's most accessible writing to date.
Read on: Prior to founding Ampline, Schmidt played in the avant post-punk groups; Elk and Covington. Rick and Mike played together in the bands; Thistle, The Light Wires and El Gigante.
Montgomery, along with The Breeders' Kelley Deal, is currently a member of the duo, R.Ring, who've recently released their debut LP, Ignite The Rest. Mike also plays in Mike Vallely and the New Arms alongside iconic professional skateboarders Kristian Svitak (The Heartaches / Swami Recs) and Mike Vallely (Black Flag / Good For You w/ Greg Ginn). The group has been touring the States and overseas this past year. Vallely's Skateboard company, Street Plant, has featured quite a few Ampline tracks in their video edits. The cuts document the riders' lives, travels and skating around the globe. The Ampline tracks are a natural pairing for the raw, aggressive energy of the skating.
Ampline's Passion Relapse will be available on limited vinyl, digital and streaming formats on January 26th, 2018 via Sofaburn Records. Click here to pre-order.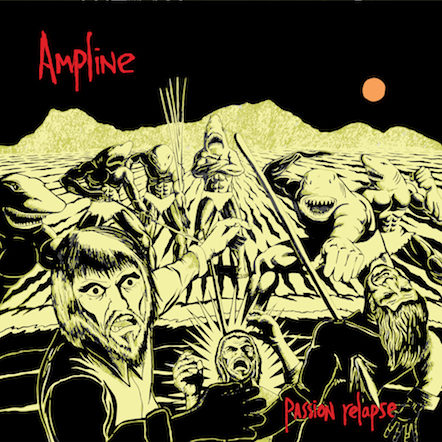 PASSION RELAPSE TRACK LISTING:
01 Shrunken Heads
02 Low Light
03 Captions
4 Rigging Snaps
05 Charm Offensive
06 Passion Relapse
07 It Will Evaporate
08 Drip
09 Edger Chaos
10 Stab
MORE INFO ON AMPLINE:
http://www.ampline.net
MORE INFO ON SOFABURN RECORDS:
http://www.sofaburn.com
MEDIA REQUESTS:
Tony Bonyata
Pavement PR
e: tony[AT]pavementpr.com
https://pavementpr.com