LEFT LANE CRUISER TO RELEASE THEIR LATEST STUDIO ALBUM "DIRTY SPLIFF BLUES" JUNE 16, 2055 VIA ALIVE NATURALSOUND RECORDS!
After nearly a decade of delivering their own high-octane, scuzzed-up take on North Mississippi rural blues as a duo, Left Lane Cruiser have recently expanded into a threesome for their latest studio album, Dirty Spliff Blues (their fifth for Alive Naturalsound Records).
Led by founding member Freddy J IV (aka Joe Evans) on vocals and slide guitar, and now joined by Joe Bent on bass and skateboard slide guitar (yes, he uses his skateboard as an instrument) and Pete Dio on drums & assorted other junk, this three-headed hydra, birthed in either Fort Wayne, IN or Hades depending on who you ask, still whips up the same frenzied mess of trashed-out punk/blues that LLC is known for. But on Dirty Spliff Blues there's a decidedly more rock 'n' roll approach to their mean-ass blues. Songs such as "Tangled Up In Bush" or " Skateboard Blues" still slink like snakes in the grass, but tracks such as the pile-driving opener "Tres Borrachos," "Cutting Trees," "She Don't Care" and "Dirty Spliff Blues" rock with a newfound intensity, and that's saying a lot for a band long known for both their intense, sweat-soaked live shows and in-the-red recordings. Of course, LLC's very backbone – the Blues – is also evident throughout, from the hip-shakin' groove of "Elephant Stomp" to, well, really just about every damn song on the record.
Any way you roll it – from the new cover art created by renowned artist William Stout to the THC-laced sh*t-kickers – Dirty Spliff Blues smokes like no other Left Lane Cruiser album before it.
Along with their music being featured in the hit television series Breaking Bad and receiving critical acclaim across the globe, Left Lane Cruiser have also toured relentlessly over the years, sharing the stage with artists such as Robert Belfour, T Model Ford, Lee Bains III & The Glory Fires, Bob Log III and many others, and are also regular performers at the Deep Blues Festival now held annually in the cradle of the blues, Clarksdale, MS.
Left Lane Cruiser's Dirty Spliff Blues will be released on limited vinyl, CD and digital formats on June 16th via Alive Naturalsound Records.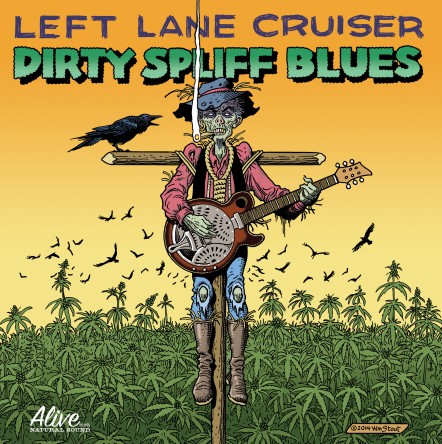 FOR MORE INFO ON LEFT LANE CRUISER:
https://www.facebook.com/pages/Left-Lane-Cruiser/16313548150
http://www.alive-records.com/artist/left-lane-cruiser
FOR MORE INFO ON ALIVE NATURALSOUND RECORDS:
http://www.alive-records.com
FOR MEDIA REQUESTS:
Tony Bonyata
Pavement PR
e: tony[AT]pavementpr.com
http://pavementpr.com
PRESS RELEASE FOR LEFT LANE CRUISER'S "JUNKYARD SPEEDBALL"
Left Lane Cruiser's third album for Alive Naturalsound records could be considered, in many ways, their best effort yet. Junkyard Speed Ball incorporates elements of the heavy, heart-thumping, trash-blues stomp the Fort Wayne, IN duo are known for, but it also showcases a wider range, with some slower numbers steeped in hypnotic grooves. Recorded in Detroit by renowned producer Jim Diamond,  Left Lane Cruiser is joined by none other than Reverend James Leg (aka John Wesley Myers) of the Black Diamond Heavies, who delivers his distintive keyboards on five songs, adding an even deeper dimension to the duo's gasoline-soaked sound. Formed by Freddy J. Evans IV (guitar/vocals) and Brenn "Sausage Paw" Beck (drummer/percussion/vocals) Left Lane Cruiser has been bringing its unique style of high-octane punk blues (aka deep blues) to fans all over the world.
Left Lane Cruiser's Junkyard Speed Ball comes out March 1st and will be available on CD, Ltd. Vinyl (with free download of the album) and digital formats.
WHAT WAS WRITTEN ON THE STONES THROWN AT LEFT LANE CRUISER:
"Junkyard Speedball is an early contender for album of the year, and an authentic and inspiring updating of the blues-rock idiom for the 21st century." – Johnny Walker / SEATTLE POST-INTELLIGENCER
"If we were to establish an award for the heaviest racket to be obtained from merely one guitar, a minimal drum kit and a microphone, it would surely go to this lot. LEFT LANE CRUISER is Freddy J IV (guitars/ vocals) and drummer Brenn 'Sausage Paw' Beck. They hail from Fort Wayne, Indiana, play gonzoid stoner Blues-Rock at ear-splitting volume and clearly don't give a flying one what anyone else thinks. Such is the bedrock upon which a lot of great Rock'n'Roll is built and there is indeed some great Rock'n'Roll on 'Junkyard Speed Ball.' Recorded with one of Rock's great unsung heroes, Jim Diamond, at Detroit's Ghetto Recorders, it's the third LLC LP (following on from 2008's 'Bring Yo' Ass to the Table' and 2009's 'All You Can Eat') and it kicks like the proverbial mule." –  Tim Peacock / WHISPERIN & HOLLERIN / UK
"Junkyard Speed Ball is yet another Essential Listening album from Left Lane Cruiser and could, in the coming years, prove to be the turning point from obscure punk blues band to a driving force in the Deep Blues/Muddy Roots movement."  – NINE BULLETS
" Junkyard Speed Ball is a down-home, foot-stomping good time." – WEEKENDER
"Junkyard Speed Ball, LLC's third album for Alive Records, retains the gut-bucket charm of the Ft. Wayne, IN duo's previous work. So what's new? Stronger vocals, for one. And more interesting textures, some of which are courtesy of John Wesley Myers, keyboardist with Alive label-mates Black Diamond Heavies." – METROMIX GREENVILLE
"For anyone who hasn't heard the duo's potent, electric-slide–driven shtick, just think on R.L. Burnside, T-Model Ford, and Jon Spencer – if you can remember how you felt while vibrating to any of them, you have a good read on Left Lane Cruiser."  – Mary Leary / DAGGERZINE
"With just a touch of punk swirling around in there, the band's sounds like a live recording each time you hear it.  Their album, Junkyard Speedball, is imperfect, and maybe that's why it's so damn addictive.  Gritty, greasy, grimy, and ultimately soulful, Left Lane Cruiser basically wail and kick your ass with some crunched up, guitar soul.  Please, please, please go listen to "Big Mama" if you get the chance."  – TREND ROBOT
"Left Lane Cruiser's magnificent Junkyard Speedball is an excellent record that launches with a one-two punch of amazing music showcasing the entire spectrum of the duo's ability. The leadoff track, "Lost My Mind" is a fast, hard beating, heavy hitting, rock-stomp fun song. The second song, "Giving Tree" is a slow blues number in the vein of Clapton or early blues musicians like Muddy Waters and Howling Wolf." – ROCK AND ROLL GURU
"Junkyard Speedball, which summons the spirits of Charlie Patton, the dead members of Lynyrd Skynyd and Fred "Sonic" Smith, demonstrates that there's still plenty of life left in the drummer-guitar format pioneered by Mojo Nixon and Skid Roper all those years ago. Charging out the gate with a raging stomper, "Lost My Mind," the album runs the gamut between country-blues laments, hard rocking house party staples and psychedelic mind blowers." – Jeff Napier / NUVO WEEKLY
"Indiana blues-rock duo create a 21st century classic." – BLOGCRITICS
"The standard blues-punk cliché is to say that a singer sounds like he's been subsisting on nothing but Jim Beam and Marlboro Reds since the womb, but Left Lane Cruiser's Freddy J IV seems to have been chasing those Southern-fried standbys with shots of pure hydrochloric acid. Together with ham-fisted beats and splays from appropriately nicknamed drummer Brenn "Sausage Paw" Beck, the duo makes a noise as raucous and road-weary as a Mack truck."  – THE ONION
"Left Lane Cruiser provides lots of bluesy, country-tinged goodness in their songwriting. Sometimes you have to listen closely through the haze of fuzzed out guitar and echoey vocals, but it's there. Lots of slide guitar, plenty of rural subject matter, countryside grit and grime. These guys rock, to put it in a cliché neater and nicer than anything you'll hear on this album." – FARCE THE MUSIC
"Junkyard Speed Ball is an unholy union of country, blues, punk, and rock at the mercy of a duo that share a musical connection that culminates into one Hell of a record." – THE SODA SHOP
"Left Lane Cruiser may be from Fort Wayne, IN but they sound like a couple of unhinged punk hillbillies raised on the North Mississippi hill country blues of R.L. Burnside and Junior Kimbrough. They mine the same sort of modal blues territory but, with half-distorted vocals pushed through what sounds like a shorted-out karaoke mike, they also sound like a lo-fi swampy version of the Stooges, all full of rampaging impatience. Junkyard Speed Ball is another fine outing from a refreshingly direct and uncomplicated band that rocks like a jackhammer." – Steve Leggett /  ALL MUSIC
"Like the young Black Keys and White Stripes — they deliver a sonic post-punk punch to the bread-basket" – Graham Reid / ELSEWHERE NEW ZEALAND"
…the most filthy, greaseball, gritty, blues rock I've come across since early Black Keys' stuff." – MUSIC SAVAGE"
… a filthy sounding slab of corn-punk blues, a rhythmic and greasy scrap heap of groove and buckshot barrel loaded raceway boogie. But what's most important, is that Left Lane Cruiser is a Soul band.  As informed by Mississippi, they've got a little Memphis in 'em as well.  And, of course, as befits the name, a thousand or more miles of gravel in the headlights and in the rearview mirror. Junkyard Speedball is the record.  Left Lane Cruiser is the band.  We can't recommend 'em highly enough." – BIG ROCK CANDY MOUNTAIN
"Fort Wayne's fave greasy-fingered duo, Left Lane Cruiser, is back with their latest offering, Junkyard Speed Ball. Recorded in Detroit by the nearing-legendary Jim Diamond, the record's first single, Giving Tree, is bound to give some longtime fans agida. Seems the duo's manic turkey-on-meth-in-the-straw M.O. has been replaced in spots by down-low blues that can only be described as a tad more gutshot than their typical fare. Glad to report that this gamble pays off in spades, thanks at least in part to the personage and organ stroking skillz of Reverend James Leg of the Black Diamond Heavies." – Richard 'Luftmensch' Morgan / MY OLD KENTUCKY BLOG
"One of my favorite garage punk blues bands" – LES ENFANTS TERRIBLES[5 out of 5]
"Left Lane Cruiser's music, as expected, remains true to the formula that has worked so well for them since their inception in 2004 — a mighty signature sound of dirty, aggressive blues and foot-stompin' alt-country. Junkyard Speed Ball makes for the two-piece powerhouse's fourth full-length album, featuring twelve searing new songs, all of which make it pretty darn clear that these two good ol' boys ain't quitting anytime soon. Left Lane Cruiser is in its prime,"  – James Carlson / EXAMINER / NO DEPRESSION
"On their new album Junkyard Speed Ball ferocious trash-blues stompers Left Lane Cruiser effortlessly mix southern-fried blues, garage and brutal punk riffs into one glorious whiskey and gasoline soaked whole. Great stuff." – MAD MACKEREL UK
"Left Lane Cruiser is a two-piece deep blues act blending high energy hark rock and punk with obvious North Mississippi hill country roots. Rather than stick to standard 12-bar blues conventions, Left Lane Cruiser's sound has obvious blues roots while taking a sledgehammer to standard 12-bar blues. LLC is loud, brash, trashy and entirely refreshing." – Georgetown Fats  / BOSTON BLUES SOCIETY
"Left Lane Cruiser's last two albums were great and their new one Junkyard Speed Ball, well… third times a charm, as they say"-  MONKEY BEAT
"Left Lane Cruiser's musical growth and expansion, conjoined with a Hi-er-Fi'd production, and a hard thoughtful attack bring all elements together to cause the stars to align and explode all over Junkyard Speed Ball."  – DEEP BLUES
"With Junkyard Speed Ball, the blues is in perfectly unsafe hands." – Michael Toland / SLEAZEGRINDER
"Assimilates the Mississippi Delta blues laid down by guys like Big Joe Williams and Son House and cultivates it into a country punk 'n' blues speedball" – POPMATTERS
"Most say it's a blues band, but they are also a hard rock band with a lot of Southern fried attitude. They are their own category. Call them Industrial Redneck, or Country Trash."  – ATLANTA MUSIC GUIDE
"Reminds me of live Cramps, RL Burnside, and even old Henry Rollins. If CBGBs was still open that would be the venue I could see Left Lane Cruiser playing" – BLOGCRITICS
"Traffic in North Mississippi Hill Country-influenced, rough-edged, and, yes, kickass blues rock" – BLENDER
" The band blends styles that wouldn't normally be compatible, but when the two musicians come together the result is hard, rusty blues that will get you moving" – KENTUCKY KERNEL
JUNKYARD SPEED BALL TRACK LISTING:
1. Lost My Mind
2. Giving Tree
3. Circus
4. Shine
5. Hip-Hop
6. 24 Hour
7. Weed Vodka
8. Cracker Barrel
9. Pig Farm
10. Represent
11. Road Again
12. At The Denny's
FOR MORE INFO ON LEFT LANE CRUISER:
http://www.alive-totalenergy.com/x/?page_id=336
http://www.myspace.com/leftlanecruiser
FOR MORE INFO ON ALIVE RECORDS:
http://www.alive-totalenergy.com
FOR MEDIA AND INTERVIEW REQUESTS:
Tony Bonyata
Pavement PR
p: 262.903.7775
e: bonyata@wi.rr.com
http://www.pavementpr.com