Click here to link to download a new hi-res photo of Dirty Streets and White Horse cover art
DIRTY STREETS TO RELEASE NEW WHITE HORSE ALBUM NOV. 27, 2015 VIA ALIVE NATURALSOUND RECORDS
Memphis-based power-trio Dirty Streets are gearing up for the release of their fourth studio album, White Horse (their second for Alive Naturalsound Records) on Black Friday.
Following the release of their well-received 2013 album, Blades of Grass, the band began writing and recording material for this new record. As frontman Justin Toland explained, "We wrote and re-wrote tons of songs and it really ended up hitting a great point as far as expression. We recorded at the renown Ardent Studios in Memphis with our friend Matt Qualls this time, who is a great engineer and really helped in forming the sound of the record. It became a very pure time creatively for us and I feel we locked into something we hadn't previously. Over all, it worked out in a way that we could take more time to find our sound than we previously had."
And judging from these 11 red-raw tracks informed by the band's love of deep soul, funk, blues and heavy boogie & psych-rock it was time well spent.
"This album is definitely more fluid and natural," Toland continued. "We made a big deal out of just feeling out the songs rather than getting them technically perfect. Percussion was definitely a compass as far as groove on this one. If we couldn't play the tambourine, or shaker with feeling then it wasn't cutting it. It was actually Budos Band that was a huge influence as far as groove goes for the writing of this record."
Following various tours throughout the U.S., including a successful run opening for label mates Radio Moscow, Dirty Streets will be bringing their pile-driving live show to a city near you soon (initial tour dates listed below).
Dirty Streets' White Horse will be available on Limited Vinyl, CD & digital formats on Nov. 27, 2015 via Alive Naturalsound Records. The stunning psychedelic cover art was created by Joshua Marc Levy of Asheville Art Family.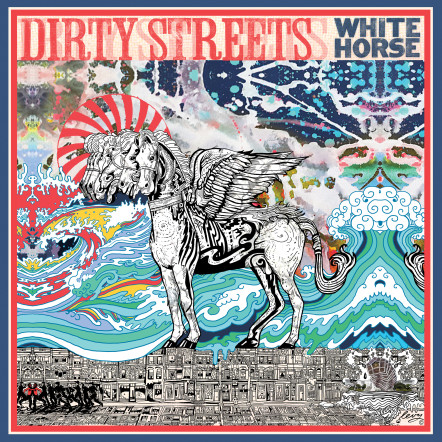 FOR MORE INFO ON DIRTY STREETS:
http://www.dirtystreetsmusic.com
http://www.alive-records.com/artist/the-dirty-streets
FOR MORE INFO ON ALIVE RECORDS:
http://www.alive-records.com
FOR MEDIA AND INTERVIEW REQUESTS:
Tony Bonyata
Pavement PR
p: 262.903.7775
e:  tony[AT]pavementpr.com
http://www.pavementpr.com
PRESS RELEASE FOR DIRTY STREETS' PREVIOUS ALBUM "BLADES OF GRASS"
Formed by Thomas Storz (bass, percussion), Justin Toland (vocals, guitar, percussion) and Andrew Denham (drums, percussion), and originally from Mississippi, the power trio Dirty Streets now calls Memphis home. That's where they recorded their new album Blades Of Grass, at the legendary Ardent studio, under the guidance of sound engineer Adam Hill. The core trio also enlisted the talents of Lucero's Rick Steff on keys for this effort. Blades Of Grass is an old school rock'n'roll record with nods to the sounds of Humble Pie, Jeff Beck Group and others. It's heavy music bathed in blues, folk and psychedelia, with chops to spare and a working class point of view. The band already has two independent releases under their belt, including an album with renown Memphis producer Doug Easley, and has toured extensively in the Southeast, with a couple of East Coast runs, and an eight week U.S. tour with Radio Moscow. Summer 2013 U.S. tour dates to be announced soon.
Dirty Streets' Blades of Grass will be available in all formats on July 9th. Limited Edition Color Vinyl exclusive to Bomp-mailorder.
BLADES OF GRASS TRACK LISTING:
1. Stay Thirsty
2. Talk
3. No Need To Rest
4. Movements #2
5. Try Harder
6.  Blades Of Grass
7. Keep An Eye Out
8. Heart Of The Sky
9. Truth
10. Twice
11. I Believe I Found Myself (bonus track exclusive to CD and digital download)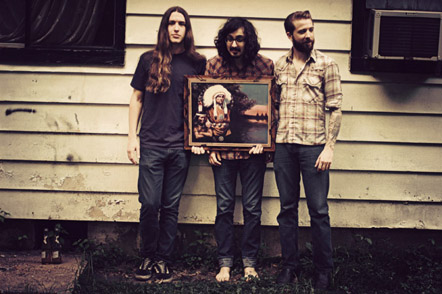 FOR MORE INFO ON DIRTY STREETS:
https://www.facebook.com/thedirtystreets
FOR MORE INFO ON ALIVE RECORDS:
http://www.alive-totalenergy.com
FOR MEDIA AND INTERVIEW REQUESTS:
Tony Bonyata
Pavement PR
p: 262.903.7775
e: bonyata@wi.rr.com
http://www.pavementpr.com