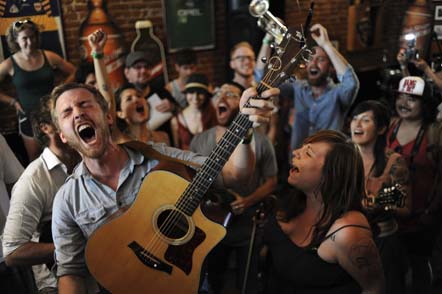 CLICK HERE TO LISTEN TO FOX & THE BIRD'S NEW SONG "NO MAN'S LAND" VIA USA TODAY'S POP CANDY!
THE DALLAS-BASED FOLK-POP COLLECTIVE TO RELEASE THEIR SOPHOMORE ALBUM "DARKEST HOURS" JANUARY 14, 2014!
FOX & THE BIRD VOTED "BEST FOLK ACT" BY DALLAS OBSERVER'S 2013 MUSIC AWARDS LAST WEEK!
A folk-pop band with gang vocals and layered harmonies, Fox and the Bird is a choral collective of rotating songwriters and singers. The band's characteristically rich, up-beat orchestration is hitched to banjos, accordions, ukuleles & fiddles to form the foundation of a sound reminiscent of hard times and high hopes.
Fox & The Bird's latest album, Darkest Hours, is a sorrowfully appropriate title for an unapologetically bare-bones, brutally honest folk album. From lyrics chronicling the confusion of lost love in "Ashes" and "Bend" to commentary on the darkly violent tendencies seen in human nature as presented in "Habit" and "Valley," the album laments hardship, poverty, death, loss… those moments in life when the darkness seems most impenetrable.
But while Darkest Hours is a heavy follow-up to the band's debut Floating Feather, lyrically, their characteristic rich, up-beat orchestration carries us through the darkness with an innate sort of joy and hints at the light that inevitably follows even our darkest of hours.
Fox and the Bird continues to produce and self-release its albums, touring and always committed to music that is made on back porches, in living rooms and on the streets. Darkest Hours is set for release January 14th, and will be available on vinyl, CD and digital formats.
FOX & THE BIRD "DARKEST HOURS" TRACKLISTING:
1. When I Was Young
2. Wreck of the Fallible
3. Saints
4. Valley
5. Habit
6. Dallas
7. Heading East
8. Bend
9. Ashes
10. Counterfeit
11. Rough Darlin'
12. No Man's Land
13. Dreamers
HERE'S WHAT PEOPLE HAVE BEEN SAYING ABOUT FOX & THE BIRD:
"…a wide range of instrumentation and a beautiful, organic sound…" — Pete Freedman, Dallas Observer
"What is this hope I hear on their voices? Even when singing songs of heartbreak, there is an ever-present optimism and peace about them. They sing of home, and I feel at home." — Sarah Crisman, Pegasus News
"Fox and the Bird, a band with wonderfully layered Americana-flamenco-folk harmonies." — Joy Tipping, Dallas Morning News
"Local beloveds Fox and the Bird take their straightforward folk sensibility and throw it in a blender on high with beautiful melodies and sing-along, foot-stomping tunes." — Rachel Watts, Dallas Observer
"Combining mellow voices and a variety of instruments, Fox & the Bird delivers mesmerizing performances that possess a mystique and style that defy musical formula." — Star Community News
"Lyrics are reminiscent of the macabre and imaginative, of folk music by Welsh immigrants to Appalachia." — Lucinda Breeding, Denton Record Chronicle
"[Fox and The Bird's songs] bloom most fully in concert, where the full-throated, multi-part harmonies can reach full roar and the intoxicating clatter behind them blows forth like a summer wind sweeping through the tall grain"– Preston Jones, DFW.com
"Fox and the Bird believe in music as orthopraxy: self-subsisting and without boundaries." — Dick Sullivan, D Magazine
"Loosely fitting under the vintage umbrella of neo-folk, this well-thought-out group of tunes boasts a variety that never seems cobbled together by force. Instead, a spirit of unity between the album's sonic traits and the group's comfort with the material shines powerfully." — Kelly Dearmore, Dallas Observer

Fox & The Bird 
FOR MORE INFO ON FOX AND THE BIRD:
http://foxandthebird.com
https://www.facebook.com/foxandthebird
FOR MEDIA AND INTERVIEW REQUESTS:
Tony Bonyata
Pavement PR
p: 262.903.7775
e: bonyata@wi.rr.com
https://pavementpr.com