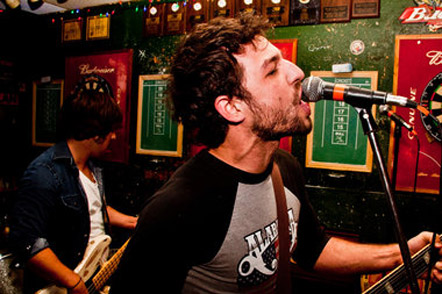 (Photo by David A. Smith/DSmithImages)
BIRMINGHAM MAGAZINE
Lee Bains III and the Glory Fires to light up The Nick
By Carla Jean Whitley, Birmingham magazine
Lee Bains III is a familiar name to many Birmingham rock fans. For years, he played in Tuscaloosa-based band Dexateens and fronted Arkadelphia. But after Dexateens came to something of an end in 2010, Bains found himself without a project. He had just started playing with the band that became the Glory Fires and quickly recorded a demo. After the band further established its sound, they recorded at Mississippi's Dial Back Sound (the same place where the Dead Fingers recorded their recently released self-titled album). "There is a Bomb in Gilead" will be released on Alive Records on May 15. But if that's too far away, don't worry: There are many opportunities to hear Bains and the band before then. They're playing a sold-out tornado benefit show with Dexateens and Alabama Shakes in Tuscaloosa tomorrow night; they'll be at The Nick Saturday night, along with Doc Dailey and Magnolia Devil, The Bohanons and Black Willis; and on April 21, they'll perform at the Waverly Boogie.
Birmingham Box Set: One of the most striking things about the album is that you're so clearly a band from Alabama, and in the best possible way. Place names show up a lot, but it's also the sound.
Lee Bains: I tell you, a bunch of these songs actually came very quickly. Some of them I've had for—"Red, Red Dirt of Home," I've had for several years. Arkadelphia played that in our last few months. Other than that, all these songs were written just within three months, three or four months. I've never had a burst of songs like I did with this album.
I think it was just because there was so much change going on in my life at that time. I love the Dexateens so much. They were my favorite band. When they asked me to play with them, that was one of the high points of my life. That was a really positive side of it. But when the band came to an end, I sort of realized in a painful way how much I had sort of invested myself emotionally and sort of identified myself with that band and with being in that band.
When it came to an end, in a way I sort of felt like, what am I? What am I left with? I didn't know what was going to happen. I just sort of felt like the rug had been pulled out from under me. At the same time, I was going to LA back and forth, which was weird and sort of making me sort of answer, in a very real way, all these questions that had sort of been hypothetical to me. Like what would you compromise creatively to get whatever rewards? Whether financial or whatever. It was making me really actually answer those questions and confront them.
At the same time, my friends were getting married. At that same time was right around when I moved to Atlanta to be with my girlfriend now of two years. That was a big change because I never anticipated really leaving Birmingham. I think that's all part of why they came so quickly.
BBS: And those themes show up in the lyrics, don't they?
LB: For sure. They're supposed to, anyway. I try to be really truthful in my lyrics. I try to be genuine with them. So I hope that comes through.
BBS: And now y'all are setting out on this high-profile tour with the Alabama Shakes, who have been the talk of the nation for several months now. Some of the shows have sold out months in advance.
LB: It's just so weird because you say that about the Shakes—I haven't actually heard their record yet, so I'm excited to hear it. It's so weird how this stuff works. I was telling somebody the other day that there are things that I've done over the past few years to really—I've worked to try and make playing music sustainable, whether financially or through my lifestyle. I've taken jobs that I didn't like and I lived with my parents. I went out and played a bunch of shows and did all that stuff.
What's crazy about this tour is that I guess the way it started is about a year or so ago, I just asked this band that I really liked if they'd want to open for us in Tuscaloosa. I never in a million years … We'd played with them one night at Egan's, they were first of three. It was the night of the (2010) Iron Bowl, that's part of why I'll never forget it. (Bains is an Auburn fan, and his team went on to win the national championship that season.) I walked in and the Shakes were playing. They must've started right after the game was done. I think that was the first time I saw them. I was like, these guys are great. I guess they just weren't playing that much because they didn't have that much recorded. When we got asked to do this brews cruise, well that's cool, I was like dude, we ought to get the Shakes to play that show. Just from that, that tiny little thing is now resulting in, hey, you want to go on this two-week East Coast tour with us and play all these venues? It's wild.
I think part of the thing that's really cool about their success in general is they've gotten it solely on the merits of their music, which is very rare … So often it has to do with business dealings. With them, I can look at them and be like, they deserve that many people listening to them.
http://blog.al.com/birmingham-box-set/2012/03/lee_bains_iii_and_the_glory_fi.html
AL.COM (Alabama online site) – Feature interview with band photos to preview Tuscaloosa show
Lee Bains & Glory Fires happy to rock for recovery at Tuscaloosa Get Up concert (Q&A)
By Ben Flanagan, al.com al.com
TUSCALOOSA, Alabama — Birmingham-based rockers Lee Bains III & The Glory Fires will tear it up on the Bama Theatre stage in the name of tornado recovery at Friday's Tuscaloosa Get Up benefit concert, organized by WellThatsCool.com.
Sharing the bill with uber-popular state bands Alabama Shakes and The Dexateens, the sold out show will continue raise money for Tuscaloosa Habitat for Humanity, with all proceeds will go toward the goal of rebuilding a house for a family who lost theirs during the tornado.
John and Pam Nero lost their Alberta City home when the April 27, 2011 tornado ripped through Tuscaloosa, and they've now been approved to have it rebuilt by Habitat. Read the details at the WTC website.
Below, Bains talks to us about contributing to the Neros' recovery, touring with Alabama Shakes and The Glory Fires' debut album "There is a Bomb in Gilead, due May 17.
Ben Flanagan: How did the Glory Fires get involved with Tuscaloosa Get UP?
Lee Bains: Well, Elliott [McPherson, from The Dexateens] had started talking about doing a benefit almost as soon as the tornadoes hit. He wound up deciding to postpone it for a while, though, since we figured there would be no shortage of benefits and fundraisers in the immediate wake of the storms. Anyway, when Elliott first started talking about it, The Glory Fires were part and parcel. Bo [Hicks] had been formulating a similar plan, which he'd mentioned to me as well, and eventually Elliott's and Bo's ideas just converged into one event at the Bama Theatre. I'm pretty sure that's how it worked.
BF: This show sold out pretty quickly. What does it mean to you when you see a community not only support its own recovery but do so by also shining a positive light on local artists?
LB: Man, I'm so glad that it sold out, that folks bought the VIP tickets, that individuals and businesses have contributed additional money. Habitat is a pretty remarkable organization, and I feel really fortunate to be able to contribute to its mission here in Alabama. I'm excited to meet the Neros, and I hope that this event can emphasize the fact that all these communities are still struggling to rebuild, to recover and heal. This will be a long process, and so we, as neighbors, need to put forth a sustained effort.
On a more selfish level, I'm really glad that so many people will be there to see three bands from the state of Alabama. I think a lot of times, folks look at "local music" as being the musical equivalent of a minor league baseball team. "Why follow the Barons or the Biscuits when I can follow the Braves and watch an overall higher quality of competition?" But I see local music, at its best, as being more like college football. "Why watch the Falcons, when I can watch Alabama/Auburn, and see a bunch of guys who play tough with all their hearts, who live and likely grew up right here nearby, and proudly participate in a long tradition we all share?" Or maybe like a locally owned grocery store. You know, you can go look for barbeque sauce at Walmart and find all the crappy national Kraft brands. Or you can go to one of the Westerns in Birmingham, and find Golden Rule and Dreamland and whatever else. At their best, local artists — musical or otherwise — can engage and describe the experience of their neighbors in a way that an artist from hundreds or thousands of miles away — no matter how gifted — never could.
Lee Bains III and the Glory FiresLee Bains III & The Glory Fires will release their debut album "There is a Bomb in Gilead" on May 17. (Photo by David A. Smith/DSmithImages)
BF: How is the new album shaking out? Are you pleased with what you have right now?
LB: We're done! The record will be out on May 17th via Alive Records, although we'll be selling copies at shows throughout April. Oz Music will have it in Tuscaloosa. We're all proud of what we accomplished, and are really grateful to the folks at Alive and Bomp Records, as well as to Lynn Bridges who helped us produce and record the album, and Jim Diamond who mixed it. I am definitely excited for folks to hear it, and for us to get on the road.
BF: You're touring with the Alabama Shakes. The national exposure for Alabama bands has to be pretty reassuring. Why are folks suddenly latching on to our state?
LB: I'll tell you, it's pretty amazing. I don't really think that people are interested in Alabama, per se, but rather that Alabama has been sitting in a creative sweet spot. We are certainly a southern state with extraordinarily rich cultural traditions, but we're also one that doesn't have a concrete, potentially stifling "sound" like Memphis or New Orleans or Nashville. And we also have the benefit of a few good-sized cities and universities. I think it's also really helpful that there is no established "scene" or "biz" here in Alabama. If you're playing music here, it's only because you want to play music. Nobody's getting rich and very few are even breaking even playing music here. This isn't Nashville or Atlanta. No A&R guys are going to show up to catch your set at The Nick or Egan's or Bottletree or Alabama Music Box. Who is going to show up, though, is a bunch of kids like you who are hungry for real music and want to have a good time. That sort of environment draws the best, most genuine qualities out of a band. As soon as show-biz comes into the picture, s–t gets weird.
BF: What do you think about The Dexateens playing for the first time since last June? That's going to quench a whole lot of people's thirsts, isn't it?
LB: I'm looking forward to it, man. To be honest, I'm most excited about hanging out with everybody again. We've all scattered, and, although we do keep up on the phone or whatever, it's been hard to get everybody together. I get to see Matt [Patton] and Brian [Gosdin] relatively often, but I haven't seen Elliott or Brad [Armstrong] in way too long.
BF: Who are some of your favorite Tuscaloosa bands? Why?
LB: Well, it's funny, but bands in Tuscaloosa turn over fairly often — partly because of folks moving in and out of town for school, I reckon. So, right now, since I don't get to spend as much free time down there as I used to, I don't know as many of the newer bands. That said, Blaine Duncan is one of my favorite songwriters. There's Necronomikids with Mike Gaut and Jon Ezell, both of whom are Alabama rock and roll royalty. Ronnie Lee Gipson is playing with them, and always has 40 solid bands going at any given point. Right now, I know he's doing Black Willis, Original Shake Charmers, and Model Citizen. I've heard a lot of good things about Callooh! Callay!, Joshua Folmar and Piss Shivers but have never had the opportunity to see any of them live. Most of the nights I'm in town these days, we're playing.
The Glory Fires include Justin "Catfish" Colburn (bass), Brian "Death Machine" Gosdin (drums), "Bad" Blake Williamson (drums) and Matt "L.R." Wurtele (guitar).
http://www.al.com/entertainment/index.ssf/2012/03/lee_bains_glory_fires_happy_to.html