Rudy De Anda (photo: Arthur Hitchcock)
RUDY DE ANDA DROPS NEW SINGLE "THE MIRROR" VIA COLEMINE RECORDS' SISTER IMPRINT KARMA CHIEF RECORDS | 7″ VINYL SINGLE OUT NOW!
Rudy De Anda is bursting out of the musical melting pot of the LBC. As frontman for the Long Beach psych-prog group Wild Pack of Canaries, Rudy felt the creative pull to begin a solo project that is currently catching fire and hitting the festival circuit with plays at last year's Noise Pop, SXSW and Music Tastes Good.
In 2013, when the band was treading on and off hiatus, De Anda started writing his own songs and was approached by one of his musical mentors, Isaiah "Ikey" Owens (Mars Volta, Jack White) to record. Lost in their effortless chemistry, the two friends setup sessions in Ikey's living room in-between his Nashville trips and his Jack White tour schedule.
Rudy's previous efforts (2016's Delay, Cadaver of a Day and 2015 debut EP Ostranenie) have earned him a rightful place in L.A.'s emerging alt-Latino movement, a growing collective of bands — including "big brothers" Chicano Batman, for whom de Anda has opened — that dabble in non-Latino scenes and support one another's efforts while charting individual paths so distinct it might be a stretch to call it a movement at all.
Additionally, De Anda is part of a budding Los Angeles artist management group called Qvolé Collective representing and celebrating progressive Latino music from the US.
The band has shared the stage with established acts Warpaint, The Specials, Chicano Batman, Dr. Dog and No Age to name a few.
Click here to order/buy/stream Rudy De Anda's new single "The Mirror"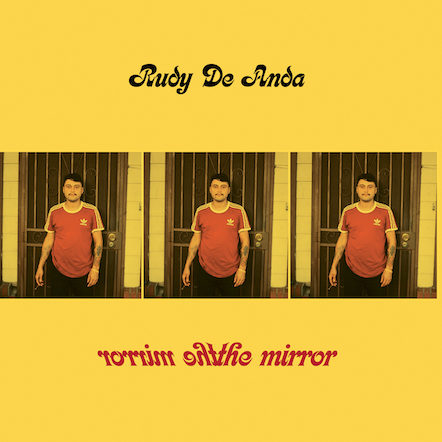 FOR MORE INFO ON RUDY DE ANDA:
https://www.facebook.com/RUDYDEANDAMUSIC
FOR MORE INFO ON KARMA CHIEF RECORDS:
https://www.facebook.com/karmachiefrecords
FOR MORE INFO ON COLEMINE RECORDS:
https://www.coleminerecords.com
FOR MEDIA REQUESTS:
Tony Bonyata
Pavement PR
p: 262.903.7775
e: tony@pavementpr.com
http://www.pavementpr.com