CLICK HERE TO DOWNLOAD TWO NEW HI-RES PHOTOS OF PAUL COLLINS (PHOTO: JOY WHALEN) & LONG TIME GONE / TO BEAT OR NOT TO BEAT ALBUM ART
PAUL COLLINS' BEAT TO RELEASE LONG TIME GONE / TO BEAT OR NOT TO BEAT ALBUM APRIL 28TH VIA LOLIPOP RECORDS!
THIS MARKS THE FIRST TIME THESE TWO LONG LOST EPS WILL BE RE-ISSUED ON ALL FORMATS (VINYL, CD, CASSETTE & DIGITAL)
THE KING OF POWER-POP KICKS-OFF SOLO EUROPEAN TOUR MAY 6, 2017  IN FRANCE!
Paul Collins' (from The Nerves, The Breakaways) two long lost EPs with his band The Beat from the early '80s make it to Lolipop Records as the first re-issue on all formats in over 30 years, from the "king of power pop" himself. To Beat Or Not To Beat was recorded in New York in 1983 at The Ranch with John Mathias (The Romantics) and Paul Collins/Steven Huff producing. It was released in the U.S. by Jem/Passport Records and then it was later released in Europe on Closer Records France and Dro Records Spain. The single "All Over The World" was featured regularly on KROQ in Los Angeles and got a lot of airplay in France and in Spain. Steve and Paul toured in Europe off that record for several years until they wound up in London where they recorded their follow-up EP Long Time Gone, just before returning to the States. Long Time Gone was released in 1985 on Closer France and Dro Spain, and both records were released as a two-fer on Wounded Bird Records in 2004. Paul recalls those days fondly, "I remember getting an $800 royalty check for 'All Over The World' when I was living in San Francisco so I went out and bought a used green Datsun B210! I would always hum 'All Over The World' as I drove up and down all those hills in SF!"
Paul Collins' Beat's Long Time Gone / To Beat Or Not To Beat will be released on vinyl, CD, cassette and digital formats April 28th via Lolipop Records (distributed by Cobraside Distribution).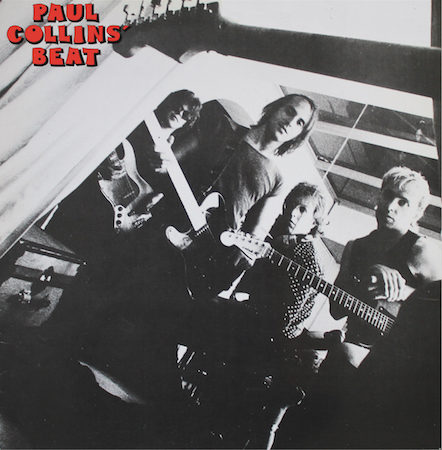 PAUL COLLINS 2017 EUROPEAN SOLO TOUR DATES
FRANCE
5/6 Clermont-Ferrand @ Bombshell
5/7 Marseille @ Le Jam
5/8 Toulouse @ Dispensary
5/10 Rouen @ 3 Pieces
5/11 Vannes @ Jam Session
5/12 Paris @ La Mecanique-Ondulatoire
ENGLAND
5/13 London @ The Finsbury
5/14 Adam Smith's Black Wax Radio Live Show
https://www.facebook.com/events/1336741049725439/
BELGIUM
5/16 Kortrijk @ Den Trap
NETHERLANDS
5/17 Rotterdam @ V11
5/18 Haarlem (Amsterdam) @ Patronaat
GERMANY
5/19 Düsseldorf @ The Tube
5/20 Berlin @ Cortina Bob
5/21 Hamburg @ Monkeys Music Club
SWEDEN
5/23 Malmo @ Folk & Rock
5/24 Gothenburg @ Liseberg Amusement Park Power Pop Festival
5/25 Eskilstuna @ Ölkultur
5/26 Karlskoga @ Rockbar
5/27 Stockholm @ Pet Sounds record shop show
SPAIN
5/30 Madrid @ Fun House
5/31 Burgos @ Matarile
6/1 Leon @ Chelsea Bar
6/2 Zarragoza @ Teatro Arbolé
6/3 Irun @ Terraza del Aia
6/8 Barcelona @ A Wamba Buluba
6/22 Elche @ Hotel Galicia
6/24 Fuengirola @ Fuengirola Pop Weekend Appearing with The Beach Boys
PORTUGAL
6/29 Lisbon @ Popular Alvalade
SPAIN
7/1 Carballo @ Rockin´Carballo Festival 2017
FRANCE
7/21 Tourville-Sur-Mer "Le Sable, Les Mouettes et Les Guitares Electriques" Festival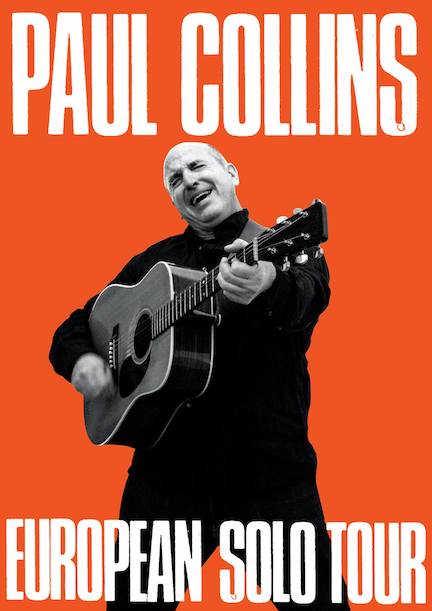 FOR MORE INFO ON PAUL COLLINS:
http://www.thepaulcollinsbeat.com
https://www.facebook.com/Paul-Collins-Beat-46392812761
FOR MORE INFO ON LOLIPOP RECORDS:
https://www.lolipoprecords.com
FOR MORE INFO ON COBRASIDE DISTRIBUTION:
contactus@cobraside.com
p. 818.548.9001
http://cobraside.com
FOR MEDIA & INTERVIEW REQUESTS:
Tony Bonyata
Pavement PR
e: tony@pavementpr.com
http://pavementpr.com
~~~~~~~~~~~~~~~~~~~~~~~~~~~~~~~~~~~~
PRESS RELEASE FOR PAUL COLLINS' PREVIOUS STUDIO ALBUM FEEL THE NOISE: 
Paul Collins is a guy who's been around the block. He was one of the progenitors of the early power-pop movement in the '70s in not one, but three influential bands of that era – The Nerves, The Breakaways and The Beat (the latter even appearing on Dick Clark's American Bandstand back in the day). He later turned towards a decidedly rootsier approach to his music, exploring country and folk rock, before returning to the more driving, high-energy sounds of his youth on his acclaimed 2010 Alive Naturalsound effort King Of Power Pop! His music has been covered by a host of talented musicians, most notably his song "Walking Out On Love," which Green Day's Billie Joe Armstrong performed as part of the punk band's hit Broadway musical American Idiot.
Collins has been diligently working the DIY circuit since 2008, playing with some 160 up-and-coming bands in that time, and working harder than he has in his entire career. The music legend is still standing and has the same enthusiasm for the music that he did when he first started rocking out in 1974.
This September Collins will be releasing his follow-up to King Of Power Pop!, aptly entitled Feel The Noise. On it, he travels full-circle, tapping into the very spirit of rock 'n' roll that fueled much of his early groundbreaking material, and is the obvious extension of his most iconic work with, what many still consider to be the most important power-pop band, The Beat.
As far as the direction of the new record is concerned… well, probably best to just have Paul weigh-in on that…
"Yeah, it's a concept, man. Rock 'n' roll… remember that? Well I do, like it was yesterday. Standing on the corner of Hollywood & Vine in L.A. or on Columbus & Broadway in front of Aquarius Records in North Beach San Francisco circa 1975… Thinking that all I wanted to do is rock out, so sick of everything I was hearing on the radio, all those bands seemed to suck to me. I couldn't understand what happened to the real rock 'n' roll that I grew up on. Where did it go? Where were the balls? Where were the guts? Where were the songs that blew my mind, the guitar licks, the harmonies… what happened?
For too many years after that all I heard was the same old thing… 'rock 'n' roll is dead.' Every time I heard it, it made me mad, it made me think… yeah… F**K YOU!
Then I heard the Ramones, and things got better for a while, and then it got bad again. Then I heard Nirvana and things got better again for a while, then they got bad again, but at that point I didn't really care anymore because I knew that rock 'n' roll was never gonna die… you know why? Because there will always be a new generation of kids who will dig this stuff as much as I do… Feel The Noise!" – PAUL COLLINS
Paul Collins' Feel The Noise was produced by studio legend Jim Diamond  (who also plays bass and guitar on the record), and will be available September 9, 2014 on CD, digital and limited edition colored vinyl through Alive Naturalsound Records.
FEEL THE NOISE TRACKLISTING:
01 Feel The Noise
02 Only Girl
03 Baby I Want You
04 I Need My Rock 'n' Roll
05 Don't Know How to Treat A Lady
06 With A Girl Like You
07 For All Eyes To See
08 Little Suzy
09 Can't Get You Off My Mind
10 Baby I'm In Love With You
11 Reach Out I'll Be There
12 Walk Away
FOR MORE INFO ON PAUL COLLINS:
http://www.thepaulcollinsbeat.com
https://www.facebook.com/paulcollinsbeat
FOR MORE INFO ON ALIVE NATURALSOUND RECORDS:
http://www.alive-records.com
FOR MEDIA & INTERVIEW REQUESTS:
Tony Bonyata
Pavement PR
e: tony@pavementpr.com
http://pavementpr.wpengine.com
~~~~~~~~~~~~~~~~~~~~~~~~~~~~~~~~~~~~
2011 PRESS RELEASE FOR PAUL COLLINS' KING OF POWER POP!
PAUL COLLINS (one of the originators of the high-energy sound known as Power Pop and co-founder of THE NERVES, THE BREAKAWAYS and THE BEAT) has a new studio album coming out aptly entitled KING OF POWER POP! (on Alive Records) and it's a complete return to his roots – to power pop, the sound he helped create and popularize, a sound that has seen a resurgence in recent years, a sound that is here to stay!
Produced and engineered in Detroit by Jim Diamond (Dirtbombs, The Go, The White Stripes, to name just a few), KING OF POWER POP! also features Eric Blakely on guitar and backing vocals, Diamond on bass, and Dave Shettler on drums (SSM, The Sights). Motor City guests include Wally Palmar of the legendary power pop hit-makers THE ROMANTICS, as well as pop icon Nikki Corvette of NIKKI & The CORVETTES. The catchy cover art is the work of legendary artist BILL STOUT.
FOR MORE INFO ON PAUL COLLINS:
http://www.alive-totalenergy.com/x/?page_id=1592
http://www.thepaulcollinsbeat.com
FOR MORE INFO ON THE BEAT ARMY:
http://www.facebook.com/pages/THE-BEAT-ARMY/346148489520
FOR MORE INFO ON ALIVE RECORDS:
http://www.alive-totalenergy.com
FOR MEDIA AND INTERVIEW REQUESTS:
Tony Bonyata
Pavement PR
p: 262.903.7775
e: tony@pavementpr.com
http://www.pavementpr.com